University of Washington School of Public Health
C. Scott Bond, MHA '78
Share: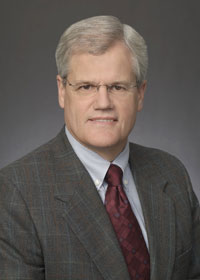 The School of Public Health congratulates MHA alum C. Scott Bond on his new position as President and CEO of the Washington State Hospital Association. Scott has served on numerous WSHA boards and committees. Previously, he worked for the Providence Health System for more than 25 years. Of his new position, Scott says, "The hospital association has been tremendously successful. I plan to build on that legacy and lead us into new areas, particularly focusing on successful implementation of health care reform. I am really excited about this new role."
After stepping into his new role, one of Scott's first acts on behalf of the Washington State Hospital Association has been to raise funds to support health policy education in honor of his predecessor Leo Greenawalt. Leo Greenawalt dedicated his career to health care policy. Through the Leo Greenawalt Professorship in Health Policy, the School of Public Health is working toward establishing an endowed faculty position specializing in health policy education — enhancing the MHA program curriculum and supporting students to become future leaders who understand health policy and can work to shape it.
We send our congratulations to Scott on his new position of leadership with the Washington State Hospital Association, and we look forward to hearing of his future accomplishments. If you are interested in joining Scott and WSHA in support of health policy education, give to the Leo Greenawalt Professorship Fund.