University of Washington School of Public Health
Kelli Trosvig, MHA Health Services '94
Share:

Kelli Trosvig, MHA 1994 in Health Services, was recently appointed vice president for UW information technology – a job she'd been doing on an interim basis for more than a year. She serves as the university's chief IT officer. President Michael Young praised her for leading UW-IT "out of a challenging situation and putting it on a path of fiscal responsibility and restraint."
When Kelli took over UW- IT in August 2008, it had an accumulated $40 million deficit and had eliminated 100 positions. "The fundamental problem was IT was trying to be very responsive to the needs of campus without understanding the costing and the models behind it," she said. "We had to come back and balance things." She also had to rebuild trust between the IT department and faculty, students and staff.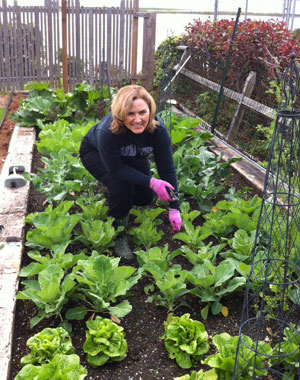 Kelli Trosvig in her garden at home in Everett
Kelli is credited with several initiatives, including upgrading wired and wireless networks, enhancing mobile offerings and beginning the long overdue process of modernizing teaching and administrative platforms. "The pace of technology change is astronomical right now," she said. "By their very nature UW-IT people are pretty good at dealing with that speed. For the rest of the campus, the pace of this change can be overwhelming. Helping them navigate the choices is what IT is here for – really knowing when to lead, advise or just enable is key for an IT organization to add value." One new project is "green desktop management," where computers are updated overnight with automatic security patches and then powered into sleep mode to save energy.
Kelli likes working in IT because there's "always something new," she said. "There is always room for improvement. You do your best work in IT when you are part of a bigger effort. IT for IT's sake is not compelling. IT for better research, teaching, relationships is very compelling."
Kelli has been at the university for more than 20 years. She's also worked for a biotech company, and took five years off to raise her three children. "At one point, with three little kids, it didn't seem manageable," she said. But after taking time off, she started doing temporary projects appointments, looking for things that added experience and flexibility to her resume.
Gaining valuable skills overseas
After earning her bachelor's degree in economics from the UW, Kelli joined the Peace Corps in Liberia. She taught chemistry, physics and adult literacy. While there, she met her future husband, Ivan Eastin, who was also in the Peace Corps. Ivan now heads the UW's Center for International Trade in Forest Products and is a professor at the College of the Environment. He also heads the Peace Corps Masters International Programs (PCMI), where UW students take time off from their studies to spend two years working on a master's degree while serving in the Peace Corps. Kelli is a big fan of the overseas experience, which she says teaches how to deal with situations you can't easily control and how important relationships are to being able to achieve worthy goals.
On the value of an MHA
"It's a great program that involves leadership and management. I was particularly focused on working in the public and nonprofit sectors," Kelli said. "It gave me real skills and experiences that have helped me to this day: the importance of doing your own research, keeping up an intellectual aspect to your leadership, and seeking out a variety of opinions on important issues. The MHA program allowed me to step back and be more strategic and thoughtful about how you both manage and lead an organization. It's probably what's resulted in me being here."
Many faculty members made an impression on her, including Cheryl Scott, a clinical professor of Health Services who is also president emerita of Group Health Cooperative and chief operating officer for the Bill & Melinda Gates Foundation. Other faculty Kelli cited: Austin Ross, professor emeritus of Health Services; Pat Wahl, professor of biostatistics and former dean of the School of Public Health; and Martha Pilcher, who taught a course on quantitative methods.
Advice for young alumni
"I think sometimes you need not to take the straight and narrow path in your career. Sometimes a vertical move or a step back to gain new skills is valuable. I've never really worried about the title as much as I have about the team and project. I've had a lot of titles, like special assistant, project analyst, acting COO. It is really about the contribution you make, the ability to learn new things and the relationships you build."
Her daily routine
"I get up and work out every morning at 5 a.m. It won't happen if I don't do it first thing in the morning. I drive one son to school and I'm at the office by 8. I really try to spend dinner and an hour or two with my family, before doing a couple hours' more work and usually more on the weekends. I have great support staff. The key to being happy in these demanding jobs is having great people to work with."
What she does for fun
She skis, hikes and cooks, and has belonged to the same book club for 24 years. A favorite this past year was The Immortal Life of Henrietta Lacks, a book about a poor African-American woman whose cells were taken without her or her family's knowledge and used in research across the globe, including development of the polio vaccine. Other recent ones include Peter Sims' Little Bets, How Breakthrough Ideas Emerge from Small Discoveries and Amy C. Edmondson's Teaming: How Organizations Learn, Innovate, and Compete in the Knowledge Economy. "I also like gardening. It's that quiet, thoughtful time. Somehow pruning and weeding and fresh air make my thinking clearer."
Her favorite IT device?
"I love my iPhone. I think it's great, and have converted my whole family to the device – a simplified support model for mom. Mobile devices are really making the world such a more connected place."