University of Washington School of Public Health
Sophia Teshome: Contributing to Ethiopia's Health
Share: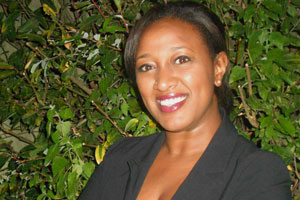 Sophia Teshome (MPH, '12) has immersed herself in Ethiopia's public health issues. Literally. The Seattle native once climbed into a spring of holy water in the Gondar region of northern Ethiopia. She was trying to understand the power of traditional institutions such as the Orthodox Church and the widespread belief that holy water can cure diseases such as HIV.
"The priests are almost playing the role of God in curing illnesses," Teshome says. "Even educated people go to holy water sites. Some climb in. A lot of people drink it. Thousands of people with HIV were dying at these sites."
Ethiopia is a country of roughly 85 million where health workers are in short supply but priests are abundant. The project for which Teshome conducted – called SCOPE (The Strengthening Care Opportunities through Partnership in Ethiopia) – seeks to harness the influence of those religious leaders to promote better health.
The program has been successful, partly because of a progressive archbishop, Teshome says. Instead of relying solely on holy water, many faithful now heed their priests' calls to get tested for HIV and to regularly take their antiretroviral medications. "Anecdotally, we know that it is working," Teshome says.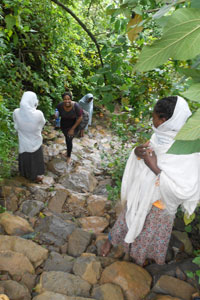 Hiking down to Tikil Dingay holy water site and waterfall to research holy water use and HIV in the Gondar area
Teshome worked on the SCOPE project last year as a graduate student. Today, with an MPH in Health Services, she is based in the nation's capital, Addis Ababa, where she consults for the US Centers for Disease Control and Prevention (CDC), the American Embassy, and Danya International, a firm that offers a range of global consulting services. She also continues to work for SCOPE as a board member, helping other UW students doing research.
"It's totally fascinating," Teshome says. "I'm providing the CDC with technical expertise for their health communications and public affairs. I really enjoy it. It allows me to see how the US government is working in public health here and how certain decisions are made behind the scenes."
A recent highlight was the opening of Ethiopia's first public health training center, funded by the CDC. The center is vital, she says, because over the next 10 to 20 years, there won't be enough health professionals to deal with Ethiopia's many public health challenges.
Those challenges include HIV and other infectious diseases. Meanwhile, Ethiopia's middle class is slowly growing, Teshome adds, "so the diseases which come along with wealth, such as heart disease, diabetes and cancer, are starting to be prevalent." Outside of cities, she says, clean water and sanitation are big issues, while poverty and lack of education contribute to poor health.
Polio, however, is one issue Ethiopians no longer have to worry about. Teshome's father, Ezra Teshome, is credited with aiding an effort to eradicate it. On behalf of Rotary International, he helped raise millions of dollars and conducted vaccine campaigns while also working to promote clean water and sanitation. Time magazine hailed him as a "global health hero" in 2005. Sophia Teshome is also inspired by her mother, Yobi, a nurse with a long history of community involvement in Seattle. Teshome's parents left Ethiopia in the early 1970s to attend college in the US, but never went back after Emperor Hailie Salassie was overthrown.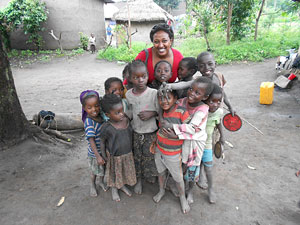 Visiting with children of the Ari tribe in South Omo Valley
"I'm a child of Ethiopian immigrants and wanted to come back and contribute to the development of Ethiopia," Sophia Teshome says.
After graduating from Howard University, Teshome worked with American International Health Alliance, a CDC partner. "That's when I realized I wanted to go into public health," she says. "Working in the field changed my perspective about how people become healthy and how people work in the community. It also made me realize how policy and government strategy really shapes how everything else works in the medical system."
She chose the UW because "it has one of the highest ranking schools [of public health] in the country" and enrolled in the UW's Community-Oriented Public Health Practice (COPHP) track. "I consider myself extremely lucky to be able to go through that program," Teshome says. "It's really unique because it provides students with an unparalleled kind of education that puts you out in the field to solve real-world problems. I can use my skills to understand how to talk to people, who the stakeholders are, and where to look for information."
"COPHP is unique because it provides students with an unparalleled kind of education that puts you out in the field to solve real-world problems."
After graduation, she wrote to directors of international organizations, even when there were no openings. "Nobody told me, but it's actually quite hard to find a job in development," Teshome says. "There are hundreds of applications for one opening. My job came about because I made the extra contact."
Teshome is in Ethiopia at a critical time. The former prime minister, who had run the country for 20 years, died a month before she arrived. So far, although there are some ethnic and political tensions, she feels safe. She has friends from around the world, thanks to a large expatriate population. "For fun, we take day trips outside of the city, hanging out by the lake. In the city, there's live music, but only one theater with English-language movies."
That's no big deal. Teshome speaks fluent Amharic. Growing up, she spent family vacations in Ethiopia and attended an international school there as a sophomore. One of her sisters, Hewan, now works in Addis Ababa as a lawyer, so family is close by. "I don't see myself leaving the continent anytime soon," she says.
Want to get involved with the Student Assistance Fund for the Community-Oriented Public Health Practice program?
Contact Megan Lynn at mlynn25@uw.edu for more information.