University of Washington School of Public Health
Rogelio Riojas: "I'll be an activist until I die."
Share: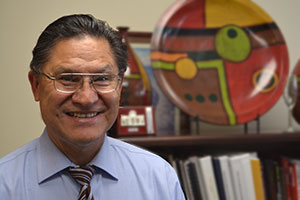 As an undergraduate, Rogelio Riojas marched against the Vietnam War, campaigned for Latino causes and lobbied for a community health clinic in his hometown of Othello, WA. After earning an MHA ('77) here, he joined Sea Mar Community Health Centers as its CEO. Today Riojas continues to direct Sea Mar while advocating for better health and human rights. "I'll be an activist until the day I die," he says.
The son of migrant farm workers, Riojas studied political science at the UW and was headed – so he thought – for law school. He was a student leader in the Chicano rights movement and once took part in the occupation of a vacant elementary school in Seattle. After his junior year, Riojas accepted a work-study job at the United Farm Workers' clinic in Toppenish, in eastern Washington. "That summer made the difference," he said, sparking his passion for a career in public health.
Riojas thought it wasn't fair that low-income residents of Othello had to travel 80 miles to Toppenish or 50 miles to the Tri-Cities to get affordable health care. Othello had a doctor, but the doctor wouldn't accept Medicaid, and many families couldn't afford to pay him. "Growing up, it was very difficult to see a doctor," Riojas said.
The UW student spent the rest of that summer lobbying for a health clinic in Othello. He asked a nurse and a friend who was a doctor to hold a weekend clinic in town. "The lines we had were just unbelievable," Riojas said. "The community got wind of what it would be like to have a doctor. So it made it easier for us to organize."
Highlights
Bachelor's degree, political science, UW, 1973
Bachelor's degree, economics, UW, 1975
MHA, UW, 1977
Recipient, UW's 2013 Odegaard Award
UW Regent, from Oct. 1
Family: married, with two daughters and two sons who graduated from the UW
Likes movies, playing basketball, recently picked up golf
Riojas held meetings, wrote letters, led petition-drives and lobbied officials. By the end of summer, the United Farm Workers decided to open a clinic in Othello. But when they advertised for a bilingual administrator, they couldn't find anyone with management experience. It got Riojas thinking. "Maybe this is the field I should be in," he said. "From that experience, I decided I was going to be a health administrator."
After finishing his bachelor's degree in political science, Riojas spent a fifth year studying economics. He entered the UW's Master of Health Administration program in 1975 and graduated with an MHA two years later. "It was a great, great education – a very valuable experience," Riojas said. "You needed to work hard. They didn't pamper you. You experienced the real world (through internships and residencies). That combination is what made the difference for me."
While still in graduate school, Riojas and other health sciences students wanted to open a clinic in the Seattle area for the underserved Latino community. They applied to the federal government, but another group was trying to open a clinic in Marysville at the same time. "The government said we needed to join forces, so we called it Sea Mar," Riojas said.
After Sea Mar's founding in 1978, Riojas applied to become its CEO. "I didn't think that I was going to get the job," he said. "I was fresh out of school, but I applied anyway. I think there were four or five people ahead of me with more experience, but one by one they all turned it down or weren't selected or had other job offers that paid more money."
Sea Mar and Riojas began with just seven employees in a small clinic in South Park, a community in south Seattle. Today the organization employs 1,600 people and operates 60 facilities across 13 counties. It sees about 200,000 people a year, 40 percent of whom are Hispanic/Latino. Many are under the federal poverty level. It's one of the state's largest providers of community-based health care, including dental care and mental health services. Sea Mar also provides services ranging from child development to a boxing club, which Riojas says "takes kids off the streets, gives them exercise, and keeps them away from drugs and alcohol." Sea Mar also runs two Spanish-language radio stations that broadcast health education messages.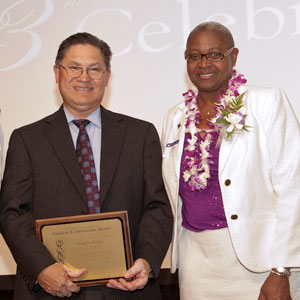 Riojas with the UW's Sheila Edwards Lange after receiving the 2013 Charles E. Odegaard Award
Photo: Mary Levin
For his efforts, the UW recently recognized Riojas with its 2013 Charles E. Odegaard Award, the university's highest achievement for diversity. And Gov. Jay Inslee recently named Riojas to the UW Board of Regents for a six-year term. "As the leader of Sea Mar for the last 35 years, Rogelio has ensured that thousands of our state's most vulnerable people receive health and human services," said Sheila Edwards Lange, UW vice president for minority affairs and vice provost for diversity, when announcing the Odegaard award.
Riojas credits the UW for "making room" for low-income students who didn't have the academic standing usually required to gain admission. "It made a major contribution to the ethnic minority professional community that you see now in the state, especially for Chicanos," Riojas said. "When I came in 1969, the Latino community was basically a farm-working community. In Seattle, you saw maybe one lawyer – that was the one who got us out of trouble when we got into it. But that was basically it. There was no dentist, there were no doctors. There were no social workers. There was nothing."
Riojas says he's "still having fun" and has no plans to retire, but, along with his board of directors, is grooming future leaders from within the organization. Sea Mar is still growing and adapting to current health care needs, and is thinking of building a specialty clinic. The clinic would use telemedicine to connect specialists such as cardiologists and dermatologists with Sea Mar's far-flung primary care physicians.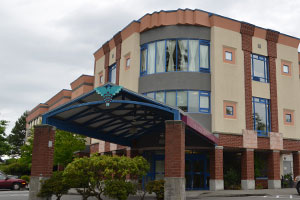 Sea Mar's main office in south Seattle
For young graduates seeking to make a difference, Riojas recommends considering a career in community medicine. Salaries are improving, he says, and you can often have more impact than if you work at larger organizations. "It will fulfill your heart and you can make a major contribution to people in need," he said. And don't neglect to study accounting. "A lot of administrators shy away from that," Riojas said, "but how can you supervise a CFO if your accounting is lacking?"
In terms of his impact, Riojas said he's most proud of his community advocacy. In the 1990s, Sea Mar fought hard to get farm workers included in the state's health care reform, he said. The organization also challenged the state to improve standards for farm-worker housing. Previously, workers often slept under tarps strung between cherry trees. "There were babies living under those trees, trees full of pesticides," Riojas said. "It kind of blew my mind the State Department of Health would allow that." Workers now have better housing, he said, which makes them healthier.
Said Riojas, reflecting on his life of advocacy, "I was just one of many students who did what needed to be done, in terms of social change. I have no regrets in telling my story. I'll be an activist until I die."
(By Jeff Hodson)
Watch a short video about Riojas and the Odegaard Award