University of Washington School of Public Health
Jonathan Kocarnik
Share: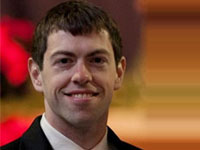 Jonathan Kocarnik (PhD, Public Health Genetics 2013) is a post-doctoral fellow in the Department of Epidemiology and a research assistant at the Fred Hutchinson Cancer Research Center. His current research focuses on identifying genetic and environmental factors associated with cancer risk and survival, particularly for colorectal cancer.
The work involves combining and analyzing large amounts of genetic and epidemiologic data, and includes studies and investigators from around the world. Results may help shed light on risk factors for cancer development and survival, Kocarnik says. The knowledge could then be incorporated into public health prevention and treatment programs.
"Working with so many wonderful collaborators on these large projects is very exciting," he says, "and has really made me appreciate the broad, interdisciplinary training I received at UW."