University of Washington School of Public Health
Dalila Zelkanovic
Share: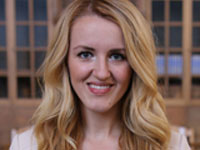 Year Graduated: 2014
Job Title: Environmental Health Specialist
Employer: Clark County Health Department
Please tell us about your career path so far, starting with your first job after graduation and leading to where you work now.
My first professional experience started during my Environmental Health internship (ENV H 482) with the Washington State Department of Health. I worked as an Environmental Specialist for the Vibrio monitoring program. While doing field work, I quickly learned how to establish ties with stakeholders while implementing adherence to public health code. This led me to where I am currently, working on the local county level with the Clark County health department. As an Environmental Health Specialist my job duties include: conducting health inspections for adherence to public health code and safety, public health policy enforcement and regulation, reviewing plan reviews for proposed establishments, and conducting onsite assessments, to list a few.
What do you like best about your current position?
I love the satisfaction of serving the public, and being on the frontlines of our evolving and developing community.
How do you think the Environmental Health major prepared you for the work you do now (courses, internship experience, etc)?
I think the rigorous science courses gave me a fundamental understanding of the implications of environmental public health work, and the internship allowed me to put the skills and knowledge to practice.
Any advice for current undergraduates who are in the major or who are considering Environmental Health?
I would advise all students to as well-rounded of a curriculum as possible, without spreading themselves too thin. I think as students we have a sense of expectation to take courses catered to a specific profession, but instead of thinking "what classes do I need for that specific job," I would consider "what classes will help me best develop the skill to understand, execute, and/or implement x, y, and z." This way the skillset you develop can be framed into any professional setting and context.