University of Washington School of Public Health
Wafa Tafesh Taco
Share: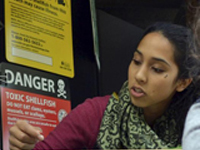 Year Graduated: 2014
Job Title: Public Health Advisor 2
Employer: Washington State Department of Health Office of Drinking Water
Please tell us about your career path so far, starting with your first job after graduation and leading to where you work now.
During my last year with UW I started out working with the Duwamish River Cleanup Coalition/Technical Advisory Group for one year as a Program Logistics Intern. Towards the end of my internship I got hired on as a Program Logistics and Events Coordinator.
After graduation I worked for the WA State Department of Health's Office of Shellfish and Water Protection as an intern for the summer during their Vibrio parahaemolyticus control plan months. Now I am working with the Department of Health's Office of Drinking Water as a Public Health Advisor 2 for their Southwest Drinking Water Region.
What do you like best about your current position?
I love that I get the opportunity to work with many parts of the DOH's drinking water division. I get to support the disinfection and coliform programs as well as get out in the field to see a water system in action.
How do you think the Environmental Health major prepared you for the work you do now (courses, internship experience, etc)?
DEOHS prepared me greatly for this position. I am constantly referring back to slides from the Water, Wastewater, and Health course and to the water labs in Sampling and Analysis. The instruments and tests we used in lab are very similar to the ones we work with at DOH. I appreciate most the science courses in the department for preparing me to critically analyze environmental data.
Any advice for current undergraduates who are in the major or who are considering Environmental Health?
I highly recommend DEOHS to considering students. A career in the Environmental Public Health field is very rewarding, the work done on the job immediately affects the health of the community. To undergraduates in the major I advise them to explore the many parts of the department to see where their passion lies and take any opportunity there is to get involved.