University of Washington School of Public Health
Share: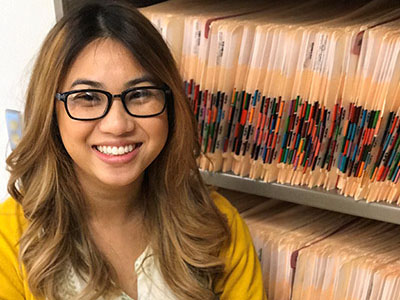 In the fall of 2015, Jennifer Phan (BS, HIHIM 2014) stumbled upon an appealing job opportunity on a friend's Facebook page. "I messaged her to find out more and the rest is history," she says.
Phan is a health information management (HIM) specialist at Seattle Cancer Care Alliance. She works at an outpatient clinic where she "single-handedly represents health information management." She covers a range of tasks from indexing and intake, to record analysis and physician support.
After working at UW Medicine's Northwest Hospital and Medical Center for a year, Phan passed the Registered Health Information Administrator (RHIA) exam. "With the RHIA under my belt, it made a big statement to my current employer," she says. "With this credential comes the notion that I'm highly educated and skilled in HIM and will continue to be."
Phan knew she wanted to be in healthcare. She was studying to be a clinical professional in direct patient care at the UW when a situation in the skills lab changed her mind. "I had to prick myself to determine my blood type," she says. "I then realized, I wasn't cut out to see blood." She instead turned her focus to health informatics and health information management, acknowledging that the field "plays a vital role in delivering outstanding healthcare."
Phan notes that her classmates were the best part of the program. "We all went through this vigorous program together," she says. "I felt that our cohort was made up of many different ethnicities, ages, educational and professional backgrounds. It's interesting to learn from different perspectives."
Her advice for other students: "Be good to yourself and others. Try to learn as much as you can and have fun doing it."