University of Washington School of Public Health
Sheridan Reiger Honored with MLK Award
Share: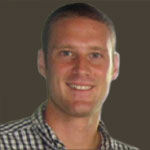 MPH and MD student Sheridan Reiger was honored Jan. 17 as the School of Public Health's recipient of an annual Community Volunteer Recognition Award. Reiger formed a non-government organization called Salud Juntos (Health Together) that has worked to improve health in Honduras.
Reiger, an MPH student in epidemiology, was one of seven individuals (plus one group) recognized as part of Health Science's 2013 Martin Luther King Jr. Tribute.
Reiger grew up in Seattle and attended both Garfield High School and the Lakeside School. But when Dr. Paul Farmer came to speak to his senior class at Lakeside, Reiger's interest in equity became a pursuit. After high school, he was certified as an emergency medical technician and got a volunteer job working in a clinic in Honduras for a summer. Through undergraduate studies in the Department of Nutritional Sciences at Cornell and now graduate/professional school, his work in Honduras led to the formation of Salud Juntos in 2008, an organization run with Hondurans that focuses on chronic diseases such as hypertension, nutrition, diabetes and asthma.
The World Economic Forum estimates that over the next 15 years, noncommunicable diseases will cost low and middle-income countries more than $7 trillion. Several types of common behaviors on the rise all over the world are well-known to increase the risk of chronic disease – tobacco use, unhealthy diet, physical inactivity and excessive alcohol use.
Reiger checking blood pressure in Honduras
Reiger said it was the local health communities who wanted help with chronic diseases and to see a continuity of care, not short-term medical brigades.
The NGO collaborates with the local Ministry of Health and community health leaders. Public health students and medical students at UW are helping with health education materials and intervention planning and evaluation.

Salud Juntos has started both hypertension and diabetes groups that meet with members of the community. These groups are run by trained community health workers and are premised on the Chronic Care Model. And they have proven results – blood pressure improved significantly as did adherence with medications and self-care. (Read more in this abstract submitted at the American Public Health Association Annual Meeting 2011.) The NGO also has a dental and vision program.

Salud Juntos, which grew out of Sheridan's desire to tackle a global health problem in a collaborative way, is an excellent example of a sustainable solution that can be modeled anywhere. Reiger expects to earn his MPH in 2013 and is on track to complete his MD in 2015.
Other winners of Community Volunteer Recognition awards (and their respective schools) were Doris Boutain, School of Nursing; Carlos Catalano, School of Pharmacy; Leon Preston, School of Social Work; Thomas Staiger, UW Medical Center; Norma Wells, School of Dentistry; and the UW Test (an outreach HIV testing program), School of Medicine. The 2013 Distinguished Service Award was given to Trish Millines Dziko, founder of Technology Access Foundation.