University of Washington School of Public Health
Using Epidemiology to Investigate Crime
Share:
UW Law Professor Seeks a Different Approach to Crime Prevention
Can crime be studied – and prevented – like a disease?
UW Law Professor Mary D. Fan thinks so. Fan, who worked as a federal prosecutor, is earning a PhD at the UW School of Public Health to better understand how to prevent harm before the damage reaches the criminal justice system.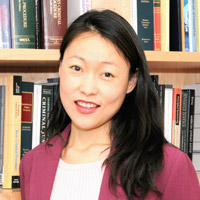 photo courtesy of U.W. School of Law
Enrolling as a graduate student in the Department of Epidemiology is unusual for a tenured professor from a different field. Fan, however, says the rigorous training could help her better understand pressing issues such as gun violence, fatal use of force by police, and illicit drug use.
"I think there's a real need for epidemiological evaluation of what legal interventions work – or don't," said Fan, the Henry M. Jackson Professor of Law. "Are we actually seeing the goals behind the law realized? Are there unintended consequences?"
Epidemiology is the science of why and how diseases spread through different populations. It uses carefully designed research studies and statistics to identify patterns and determine links between cause and effect. Criminology, meanwhile, is the scientific study of crime and criminals.
"Epidemiology offers a valuable scientific approach for addressing social challenges," said Fan, who worked in a brain cancer lab in high school and a neurobiology lab in college. "The discipline melds a rigorous quantitative approach to finding evidence-based solutions with an understanding of the social context in which a lot of public health and legal challenges occur. Something I really miss in the law is rigorous data-based investigation of fiercely-debated issues."
Together the two disciplines form a new field called "epidemiological criminology," or "epicrim" for short.
"The term was formally coined in 2009," said Ali Rowhani-Rahbar, assistant professor of epidemiology, and one of Fan's instructors. "Criminologists started it because they realized the criminal justice system can benefit a lot from public health and epidemiology."
Fan cited as inspiration several UW Public Health professors, including Rowhani-Rahbar, who have done important work on epicrim-related issues such as evaluating the effectiveness of firearms laws, protective orders, traffic safety measures, medical marijuana laws, and overdose prevention legislation. She called the researchers the "rock stars of injury and violence prevention research."
Fan is applying for research grants with Rowhani-Rahbar and pioneering gun violence researcher Frederick Rivara, professor of pediatrics and adjunct professor of epidemiology. The proposed studies would tackle timely questions such as preventing police shootings, gun safety, and laws limiting the access of children to firearms.
In the wake of shootings in Ferguson, MO, Fan, Rowhani-Rahbar and Rivara want to know whether a police force's representativeness of its community is associated with the risk of homicide by police or the risk of an officer being assaulted. The researchers also seek to evaluate the effectiveness of child access prevention laws aimed at keeping guns stored safely away from kids. Fan also is exploring interdisciplinary collaborations with Professor Jonathan Mayer – who is a leader in another merger of two fields, epidemiology and geography.
Rivara, meanwhile, is leading a gun violence study funded by the Seattle City Council. In a related effort, Rowhani-Rahbar is using a grant from the UW Royalty Research Fund to find out what happens to people once they've been hospitalized for a firearms injury but manage to survive. "How likely is it that they die after discharge? How likely is it that they get injured?" Rowhani-Rahbar said. "Gun violence is huge for us to study. It affects Americans on a daily basis."
Others have adapted public health methods to tackle crime. Earlier this year, the mayor of Cali, Colombia, was honored for using scientific evidence to bring down the city's murder rate. Rodrigo Guerrero, a Harvard-trained epidemiologist, demanded more accurate data on homicides and injuries when he first took office in 1992. The evidence revealed most deaths occurred on weekends, holidays and paydays, and that many victims were intoxicated.
A combination of alcohol restrictions and gun bans led to a drop in homicides by a third. Guerrero later helped 18 other countries use these epidemiologic methods to tackle crime. For his success, Guerrero won the inaugural $100,000 Roux Prize – given by UW's Institute for Health Metrics and Evaluation to individuals or groups who use data to make people healthier.