University of Washington School of Public Health
Public health a 'perfect topic' for UW Upward Bound students
Share:
Sherman Alexie, the award-winning author, looked around the lecture hall and noted "all the brown faces" looking back at him. "Is this Seattle?" he asked.
He was speaking to more than 80 Seattle high school students taking part in the UW's Upward Bound program for aspiring college students. The theme for this summer's six-week program was public health.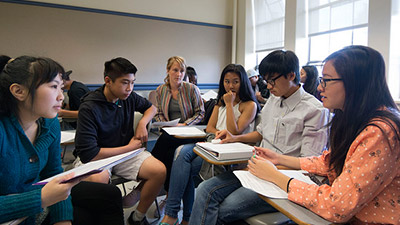 Alexie pegged part of his talk to health conditions on the Spokane Indian Reservation, where he grew up.
"My parents were in large part at fault for my health care, but they were at the mercy of the system," said Alexie, who suffered from hydrocephalus, the buildup of cerebrospinal fluid in the brain. He joked that health care was so bad that if someone broke an arm, clinic workers might say, "Here's a condom."
Alexie provoked lots of chuckles as he discussed his semi-autobiographical novel, "The Absolutely True Diary of a Part-Time Indian." It's about a boy named Junior who decides to attend a high school off the reservation. By doing so, he breaks away from his parents' expectations and "all the pressures on him from his tribe," Alexie said.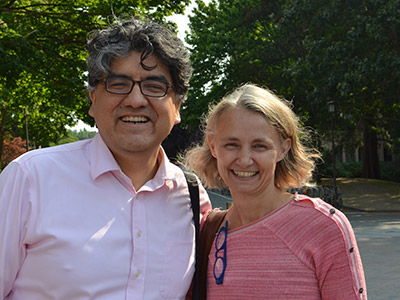 In short, the book is about overcoming obstacles and socio-economic disparities.
That message is why Sara Mackenzie, assistant dean and senior lecturer in the School of Public Health, assigned students to read it. She co-taught the "Introduction to Public Health" class with Hallie Ericson Pritchett, a Seattle-based graduate student enrolled in an online MPH program at the University of North Carolina.
The UW's Upward Bound program, housed in the Office of Minority Affairs & Diversity, is a federally funded project that accepts students from Seattle's Cleveland, Franklin, and Chief Sealth International high schools. It is one of more than 800 Upward Bound programs across the country designed to help students from low-income families or those who would be the first in their families to earn a bachelor's degree.
A short public health elective was offered to Upward Bound students last year. This year, the School of Public Health was asked to host the core curriculum – consisting of an hour-long lecture in the mornings followed by smaller discussion groups. The class break-outs were led by three current School of Public Health students and one recent graduate.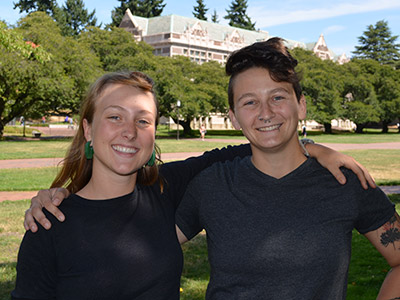 "My biggest goal is to get a much broader percentage of our population informed about public health," Mackenzie said. She noted that helping these students get to college by itself reduces disparities, as college-educated adults generally live healthier, longer lives.
Public health was a perfect topic for the program because it spans science and the humanities, Mackenzie said. Subjects included epidemiology, biostatistics, behavioral change, health policy, public health genetics, health literacy, and the social determinants of health.
"The field is so many different things," said Isabel Reyes-Paz, a senior majoring in public health and one of the teaching assistants. Reyes-Paz, the youngest daughter of agricultural workers, is a former Upward Bound student from Wapato High School in the Yakima Valley. "Upward Bound helped me in high school, and I wanted to do that for other kids," she said.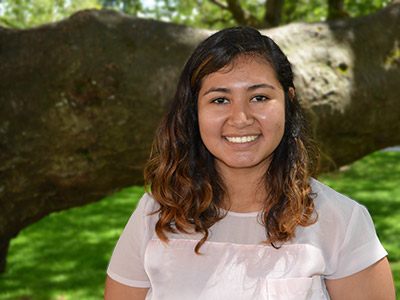 Reyes-Paz also took part in a program called ConneX, which links Yakima Valley students from diverse and disadvantaged backgrounds to higher education in health care. As part of that program, she visited the UW three years ago and remembers an activity led by Deborah Hinchey, now a clinical instructor, designed to show the effect of social and economic factors on our health.
"That's when I really knew I wanted to do public health," Reyes-Paz said. "That really clicked with me."
Reyes-Paz says the Upward Bound program has helped empower students to know that "individuals can bring change to improve their communities."
She and other discussion leaders from the School clarified lecture topics and focused on basic college-survival skills, such as how to take notes. "I got to practice what I've been learning about," said recent graduate Veronica Bechtold, who majored in public health and was the first person in her family to go to college.
Discussion leaders guided games such as the "poisoned picnic," where participants played disease detective and had to figure out how people got ill. The high school students also kept food dairies, created mock public service announcements, and mapped their communities for factors affecting public health, such as lack of sidewalks or local parks.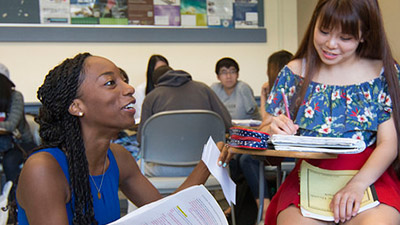 Mollie Overby, a second-year MPH student, wanted to help teach because "I'm really passionate about public health and public health education." Overby particularly liked the course's message that "life experiences and where you live, work and play all have a role in your health."
Dorothy Thomas, a master's student from Alabama who led one of the sections, said she wished she had been able to take part an Upward Bound program in high school. "They are at such a pivotal point in their lives," she said of the students. "It's been great to see them think more critically about public health information."