University of Washington School of Public Health
Faculty/Staff/Retiree Campaign for Students
Share:
The University launched the UW F/S/R Campaign for Students, a special gift matching program for all UW faculty, staff and retirees to support students in the School of Public Health.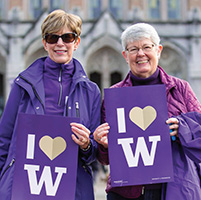 Photo: University of Washington
Any size gift or pledge to the following SPH funds will receive a 50 percent match:
A gift or pledge of at least $10,000 to create an endowed undergraduate scholarship or graduate fellowship in SPH, or to support an existing one, will also receive a 50 percent match. Matches will be added to the endowment upon fulfillment of the pledge, which can be paid over five years. Matching is limited to $125,000 per donor household and gifts/pledges must come from a single donor household (no consortium gifts).
The matches are granted on a firstcome, first-served basis and will end once the $5 million matching pool is depleted. If you are interested in participating or have any questions, please contact Libby Singer, SPH assistant director for advancement, at 206-221-6343 or ersinger@uw.edu.