University of Washington School of Public Health
Former Refugee Now a Champion for Community Health
Share:
Tenacious learner, engaged community leader, loving mother. These words describe this year's Double Eagle II Endowed Scholar, Farhiyo Ahmed, a senior in the Public Health Major.
Originally from Kenya, Ahmed is the first person in her family to go to college. She grew up in the world's largest refugee camp, called Dadaab, where her family depended on humanitarian aid agencies for food, water, healthcare and education. "They were doing their best job to improve the quality of life for some of the world's most vulnerable people," Ahmed says.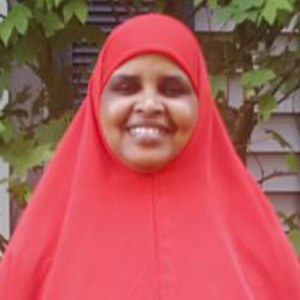 She saw the aid workers as change makers, and was inspired to improve the health of communities, especially of refugees and immigrants. "Public health allows me to follow a life path that I genuinely admire," Ahmed says, "working for the dignity and equality of everyone regardless of their race, gender, socioeconomic status and sexual orientation."
A mother of six who works part-time as a Somali interpreter in South Seattle, Ahmed is often forced to make difficult choices when it comes to school, work and family. If she can't afford books, she relies on YouTube to learn specific topics. Or she asks classmates if she can photocopy their pages. This scholarship will not only ensure Ahmed has the books she needs to thrive in class, but it will also cover a portion of her tuition.
"I'm eager to complete my education so I can change my life and become a role model for my children," Ahmed says. She plans to continue working with diverse communities to help them achieve their goals for health equity, and she hopes to return to school to complete a master's degree in maternal and child health.
Retired U.S. Navy Captains Frances M. Frazier, Nurse Corps, and Margit M. Loser established the Double Eagle II Endowed Scholarship in 2006. Their collective 57 years of active duty took them around the world, where they observed firsthand how effective public health systems impact community health and well-being. By creating a scholarship for undergraduates, Frazier and Loser hope to help students like Ahmed gain a global perspective for their lives and work.