University of Washington School of Public Health
School hires first Director of Equity, Diversity and Inclusion
Share:
Victoria Gardner, EdD, MEd, was hired as the School's inaugural Director of Equity, Diversity and Inclusion (EDI). Gardner, who will also use the title of Chief Diversity Officer, comes to SPH with nearly three decades of experience at the UW School of Medicine, where she served as director of the Office of Multicultural Affairs.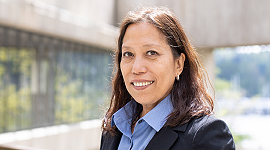 Since starting March 1, Gardner has been supporting students, staff and faculty on EDI issues. Among them: working with admissions committees to conduct a more holistic review of student applications; reviewing data from the 2017 and 2018 climate surveys; taking steps to create a strategic plan for the School on EDI issues; and planning workshops and other programs for the upcoming academic year.
Gardner has also been looking at ways to include student-centered, inclusive and multicultural programming in major events, such as orientation and the graduation celebration. She is working with the SPH Diversity Committee and the Task Force for Faculty Equity on issues such as closing the gender gap in pay. Over the next few months, she will be working with HR and other SPH stakeholders on creating a training and professional development program for faculty and staff around cultural proficiency, racial equity, inclusion and diversity.
At UW Medicine, Gardner worked to create innovative curricula, helped faculty learn how to teach students from diverse backgrounds, and provided a range of cultural proficiency and equity activities for students, faculty and staff. She earned her EdD in educational leadership and policy studies from the UW in 2009.
Read more about Gardner in this announcement.