University of Washington School of Public Health
Close Up May 2016: Omenn Award Winners
Subscribe to Close Up | Close Up archives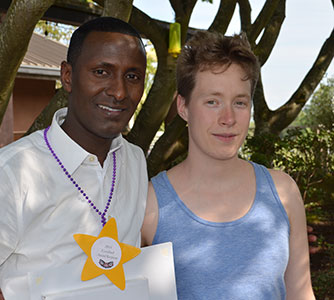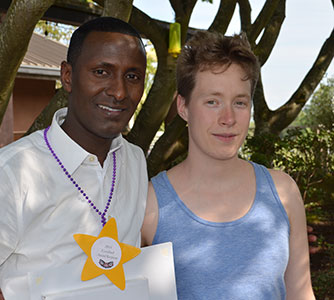 "The Gilbert S. Omenn Awards for Academic Excellence recognize outstanding scholarship and commitment"
Omenn Award Winners


Farah Mohamed, Jean Morrison
Each year, the School honors two outstanding graduate students – one PhD and one master's – for their academic excellence and commitment to public health. This year's winners of the Gilbert S. Omenn Award for Academic Excellence are Farah Mohamed, the master's winner, and Jean Morrison, a PhD student in biostatistics.
Farah Mohamed, MPH (Global Health) and MSW student
About two years ago, Farah Mohamed forged a relationship that has the potential to benefit thousands of refugees and immigrants in the Seattle area.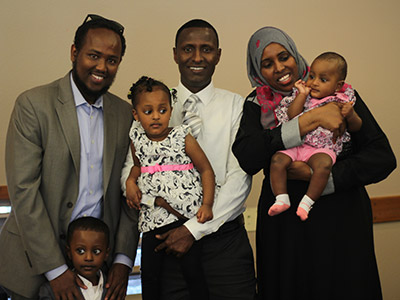 He strengthened the foundation for what is now a partnership between Health Alliance International and the Somali Health Board to bolster the board's efforts to ensure local refugees and immigrants have access to vital physical and mental health services.
As part of his practicum—a requirement of MPH and MSW students that provides an opportunity to apply classroom learning to professional experience—Mohamed conducted a needs assessment of the local Somali community. He learned that individuals and families lacked mental health care services, housing resources and unemployment assistance. He also noted worrying trends in juvenile crime and detention.
"Little was known about the health needs of Somali refugees and immigrants in Seattle," Mohamed says. "There was a serious gap between the community and service providers, and the barriers to health care directly influenced short- and long-term health and well-being."
"I know what it means to be a refugee. Refugees have undergone traumatic experiences back home and it is another hard experience to try to build a new life here when they arrive."
He presented his assessment to Health Alliance International and began working closely with the Somali Health Board, a nonprofit, grassroots organization whose mission is to eliminate and reduce health disparities affecting the region's Somali population.
"I know what it means to be a refugee," Mohamed says. "Refugees have undergone traumatic experiences back home and it is another hard experience to try to build a new life here when they arrive."
Mohamed, who was born in Somalia, moved to the Dadaab refugee camp in Kenya when he was young and lived there for nearly two decades. Dadaab is considered the largest refugee complex in the world, hosting a Somali refugee population of more than 327,000. Mohamed moved to Seattle in 2009 after a brief time in Phoenix.
"When I was a young boy, it was very important to me to be educated," he says. "I wanted to go to school, I wanted to work with vulnerable populations, and I wanted to make a difference in people's lives."
Highlights
BA in Social Work with a minor in Global Health, UW
Dual MPH and MSW, UW
Mohamed applied to the MPH program to gain up-to-date skills that would enable him to address inequities and social justice issues, to strengthen health systems in resource-limited environments, advocate for resources where they don't exist, and enhance the well-being of vulnerable populations.
"I have seen the challenges that people without access to quality health care have faced," Mohamed says. "I have seen a situation where infant mortality was very high, the chances of a child dying at birth was almost 50/50. This experience has always been with me."
He hopes to use his knowledge and skills to strengthen fragile health care systems, create policies that build healthier communities, and end preventable deaths among women, children and adolescents.
"Through the MPH program, I have learned how public health can be a powerful tool for social justice," Mohamed says. "I now understand health, not only as the absence of disease, but as a state of social, physical and mental well-being, and I have honed key leadership skills I need to work collaboratively with others and to work effectively across many different disciplines in order to make a true difference."
Mohamed juggled the demands of graduate school while working as a security guard and an Uber driver. When he's not in class or at work, he is spending quality time with his wife and children, or organizing community events like Somali Independence Day.
Jean Morrison, PhD student in Biostatistics
Jean Morrison is fascinated by the complexity of nature and the wide expanse of biological problems waiting to be solved.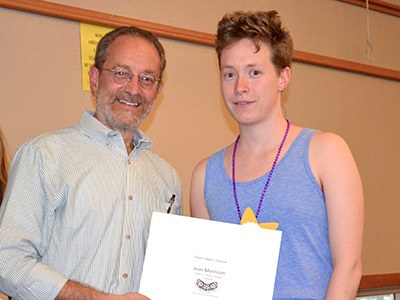 "The world is incredibly complicated and we know so little about it," Morrison says. "I like working with problems that have public health applications and I want to help identify solutions that could be useful to someone at some point."
Morrison is particularly interested in large-scale studies that use genomic sequencing data to evaluate genetic variation and identify factors that contribute to disparities in health outcomes. She tends to focus more on methods rather than outcomes. That is, she considers the data that is available and the questions that need to be answered, and she determines how well existing statistical methods would work and whether new statistical methods would yield more accurate results.
"By concentrating on methods development, I basically have a free pass to learn about new fields of biology and new ways of thinking about something," Morrison says. "It's exciting because there is always an opportunity to learn something new and there is always space to innovate and make something that no one has before."
Highlights
BA in Math, University of Chicago
PhD in Biostatistics, UW
One of the many research projects she worked on at UW is the Hispanic Community Health Study/Study of Latinos, a landmark epidemiological study of more than 16,000 Hispanics/Latinos to determine prevalence and risk factors for chronic diseases.
Morrison worked with the study's dental group to identify gene locations associated with dental caries—the largest study of its kind to date and the only one to target Hispanic/Latino populations. She also worked with the blood cell group, which discovered a new location that would have been impossible to find in a non-Hispanic/Latino group. Her contributions to the study led to two published papers.
Through her research, she has learned that a lot of the more interesting and important innovations in biostatistics happen after data is analyzed and surprising complications are detected. One of her statistical methods only came to fruition because its predecessor didn't work well for some data types. The problem led her to create a whole new method, and it turned out to be simpler and more effective.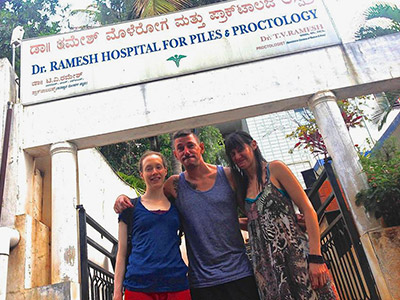 She says the PhD program offered her plenty of opportunities for collaboration within and outside the department and gave her the space to "do good science."
"I love answering scientific questions," Morrison says. "Statistical analysis is essentially the project of taking a huge amount of data that you can't make sense of and pulling small pieces of knowledge out of it—you go from confusion and potential…to knowledge."
Outside of academic work, Morrison enjoys making meaningful contributions to the community through volunteer work. She has worked with homeless children and served as a board member for an organization supporting LGBTQ graduate and professional students. Currently, she volunteers on the King County 24-hour crisis line providing support to those experiencing emotional or mental health crisis.
Morrison also enjoys practicing yoga, traveling, and fermenting vegetables to make sauerkraut and kimchi.