University of Washington School of Public Health
Close Up: Irene Njuguna
Subscribe to Close Up | Close Up archives
"If you find a child early and start them on treatment, they can live a normal life. If you find them late, they die."
Irene Njuguna


PhD student, Epidemiology
It was Irene Njuguna's dream to save children from the agonies of childhood disease. But as a pediatric resident in Nairobi, she felt powerless standing by the bedside. She saw gaps in the health care system, from a critical shortage of hospital beds and intravenous lines to low testing rates for HIV.
Njuguna is now a doctoral student at the University of Washington School of Public Health, and she's looking beyond the hospital walls to improve HIV care and treatment for children and adolescents.
"The number of children who get infected with HIV is getting smaller, because programs preventing mother-to-child transmission have done so well," said Njuguna, who just began her qualifying exam for formal candidacy to the PhD program in the Department of Epidemiology. "This means that my work to find HIV-positive children is getting harder, which is a good thing. We just need to think about new and innovative strategies to reach the unreachable."
More than 2 million children around the world live with HIV. Most were infected by their HIV-positive mothers during pregnancy, childbirth or breastfeeding. Without treatment, half of all HIV-positive babies will not live long enough to see their second birthday; a third will not see their first.
There are many missed opportunities to diagnose HIV early on in children. Some mothers don't find out they have the virus until after their children are born. Many HIV-positive children with a missed diagnosis are admitted to the hospital when they're already very sick.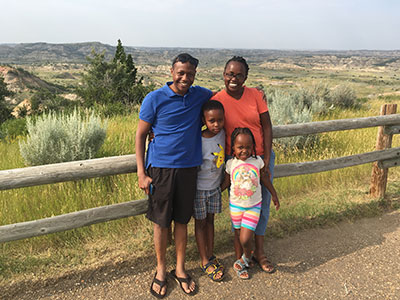 "For children, treating them is an emergency," said Njuguna, also a researcher in the Global Center for Integrated Health of Women, Adolescents and Children, or Global WACh. "If you find a child early and start them on treatment, they can live a normal life. If you find them late, they die."
In 2012, she worked with Anjuli Wagner, who was pursuing her PhD at the School at the time, to find children, ages 12 and under, who fell through the cracks. They went into HIV clinics to identify adult patients with children who had never been tested. In the CATCH study, they connected HIV-positive children to care and discovered a major barrier to HIV testing: the costs associated with testing children.
Njuguna and Wagner, now a postdoctoral research fellow in the Department of Global Health, are investigating whether small, financial incentives could get more parents in Kenya to test their children. In a pilot study, 60 HIV-positive women with children of unknown status were randomized to receive either a $5, $10 or $15 payment after completing an HIV test. About 73 percent did the test. Njuguna and Wagner are working on a larger trial to test efficacy; results should be ready in October.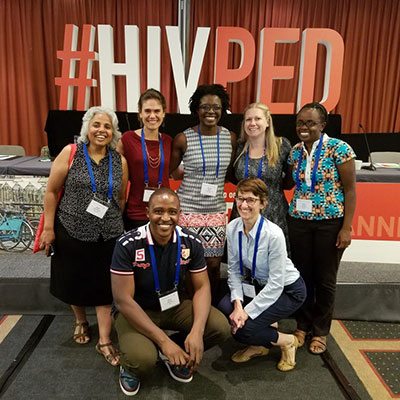 This was a hot topic during their talk at a PEPFAR (U.S. President's Emergency Plan for AIDS Relief) meeting at the 22nd International AIDS Conference (AIDS 2018) in Amsterdam in July, where they discussed innovative strategies for finding HIV-positive children. Over 500 international decision-makers attended. Another important topic was their work to validate saliva-based HIV testing in children, which so far has worked with 100 percent confidence in outpatient settings. Data from this study, dubbed STEP UP, might be used by the World Health Organization to license such a test.
Njuguna and Wagner have gotten close over the years. In one of their first activities as friends, they planted dozens of eucalyptus, pine and cyprus trees at Njuguna's family farm. When they travel for work, they make time to explore.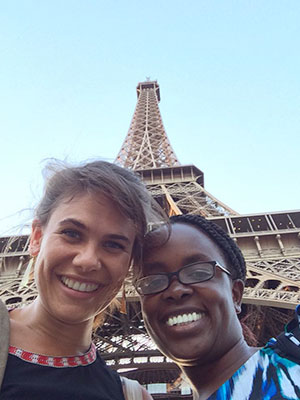 Also at AIDS 2018, Njuguna shared findings from a study, published in The Lancet HIV, that looked at whether children hospitalized with severe HIV infection would benefit from urgent antiretroviral therapy (ART). The PUSH study tested to see if ART given within 48 hours would improve outcomes and help more children survive. In most cases, children were so sick by the time they were hospitalized that the timing of ART didn't make a difference.
"More than 40 percent of children enrolled in the PUSH study had been seen in an outpatient clinic a month before they were admitted to the hospital," Njuguna said. This insight was the motivation for the STEP UP study, which combines two interventions – a pre-test informational video and a saliva-based HIV test – to improve the quality of pediatric HIV care at busy outpatient clinics.
Njuguna got involved in pediatric HIV research in 2010, just after completing her master's in tropical and infectious diseases. She saw an ad for a study physician, applied and got the job. The project was a collaboration between the UW and University of Nairobi, led by Grace John-Stewart, a professor of epidemiology, global health, medicine and pediatrics at the UW. John-Stewart remains a major mentor in Njuguna's career today. She even played a key role in Njuguna's decision to pursue an MPH through the UW's International AIDS Research and Training Program, which trains HIV investigators at partner institutions in Africa, Asia and Latin America. The program is also supporting her PhD studies.
Highlights
MPH, Epidemiology, UW School of Public Health
MS, Tropical and Infectious Diseases, University of Nairobi
MBChB, Pediatrics, University of Nairobi
2017 Master's Omenn Award Winner
"We have a great team of researchers who really care and a strong mentor who challenges us to think about the next questions, next direction," Njuguna said. The research team includes John-Stewart, Wagner, Jennifer Slyker and Kenyan researchers Dalton Wamalwa and Elizabeth Obimbo. "If you look at the history of all our studies, you'll see that they're all linked. You do one study and you find a gap. You do another study, you find another gap, and they just keep growing."
For her dissertation, Njuguna is working to fill the fractured transition between pediatric and adult HIV care. The ATTACH study focuses on adolescents, a relatively invisible group, with the highest rate of HIV mortality. She is looking to see what makes a child move from the pediatric to adult clinic successfully, compared to those children who drop out of care. She plans to complete her dissertation next year.
The key to good research, according to Njuguna, is listening intently and being in touch with what is happening on the ground. The children in her studies have inspired some her greatest ideas. In interviews with children in the ATTACH study, Njuguna often heard about barriers to HIV care in schools mainly due to stigma and disclosure of HIV status. Njuguna wants to dig deep to understand how schools contribute to HIV treatment outcomes. She plans to apply for a career development award to fund the study in November.
It's not always easy to balance a research career with being a mother, according to Njuguna. UW's student family housing and Radford Court's child day care have made a world of difference. Njuguna also has tremendous support from her husband, Henry, who is a fellow in the Epidemic Intelligence Service of the Centers for Disease Control and Prevention. Based at the Washington State Department of Health in Olympia, Washington, he chases down infectious diseases such as hepatitis C in Pierce County and other parts of the state.
When she's not working, Njuguna enjoys getting outdoors and going on road trips with her family. They recently trekked to Iowa to visit a family friend. "I'm a mom and wife first, and a researcher second," Njuguna said. "But the work is a very important part of who I am and I wouldn't have it any other way."