University of Washington School of Public Health
HealthMatters: SPH Annual Report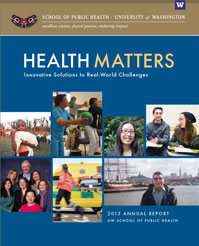 HealthMatters 2013:
Innovative Solutions to Real-World Challenges
---
Highlights from HealthMatters 2013
Collaborations among faculty and students from Global Health and Computer Sciences & Engineering help transform research in Kenya.
SPH graduate students and undergraduates partner to teach high-schoolers about public health and how to advocate for it.
The story of the Rattlinggourd Endowed Fellowship and Scholarship starts along the Cherokee Trail of Tears.
Small teams of graduate students solve real-world problems globally and, now, locally.
---
Archives
HealthMatters 2012: Developing the Public Health Leaders of the 21st Century
Online Magazine | PDF