University of Washington School of Public Health
Graduate Student Profile
Daniel Otter
MPH candidate, Health Services (Community-Oriented Public Health Practice)
Hometown: Montpelier, Vermont
Tell us about your capstone project on safe consumption sites.
I spent the summer traveling through Europe to learn more about how these sites work and if they're successful. I visited 10 sites in four countries – Germany, the Netherlands, Norway and Denmark – and interviewed site managers about their best practices and the challenges they face. My goal was to evaluate consumption sites abroad to help the planning and implementation of similar sites in Seattle.
What did you learn?
That low-threshold and harm-reduction principles should drive regulation, because certain laws are creating barriers to access. In consumption sites in Europe, smoking is considered a harm-reduction technique. Although smoking is bad for your health, injecting drugs is worse and puts you at higher risk for infectious diseases and overdose.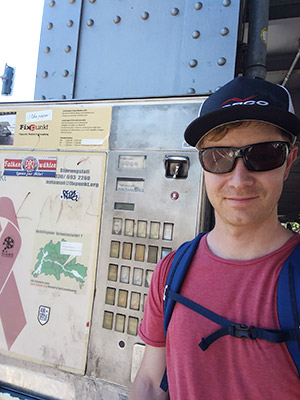 How did your work inform the King County Opioid Task Force?
I was invited to join the task force before I embarked on the Europe trip. When I returned, I shared with them what I learned about safe consumption sites. As a member, I helped draft some of the recommendations presented to local leaders and wrote an online FAQ.
How do you feel now that Seattle and King County leaders are moving forward with the task force's recommendations?
We're moving in the right direction; we are pioneers in harm reduction and drug policy reformation. Seattle was among the first cities to establish needle exchange programs in the 1980s and, most recently, we successfully introduced the Law Enforcement Assisted Diversion (LEAD) program. I hope that Seattle can continue with their progressive legacy. My hope for Seattle is drug decriminalization and regulation.
What motivates you about public health?
The social factors that influence health beyond individual behavior, beyond genetics and beyond what you eat or how much you exercise. We are facing deep structural issues and public health looks for root causes rather than just applying Band-Aids.
I'm particularly attracted to helping those who struggle with substance use disorder. Getting to know folks with addiction will help you to understand that these are people; they're just like you and me. I have a history with addiction myself, so I understand that it doesn't make you any lesser of a person.
Why did you choose the Community-Oriented Public Health Practice (COPHP) program?
I graduated from the UW in 2012 with a bachelor's degree in nursing. After working in the Intensive Care Unit at Swedish Hospital for a few years, I wanted to have a more upstream impact and to work on a systems level. I researched public health programs and stumbled upon the COPHP program. It's problem-based learning and very experiential, which was appealing.
What do you like most about the program?
Rather than didactic work, COPHP students are far more active. The program is all about social justice and health equity. The program is at the forefront of various progressive issues like health care reform and homelessness. COPHP recently joined a coalition in support of safe consumption sites.
Do you have any advice for other students?
Don't be afraid to make connections with the UW's amazing faculty members. Don't limit yourself to scheduled classes; get in touch with faculty who are doing things that interest you.
Do you have any extracurricular activities or jobs?
I volunteer at the People's Harm Reduction Alliance and at various needle exchange programs. I try to go skiing and biking once a quarter. Self-care is a challenge in graduate school, but I try to prioritize exercise before homework, because I'm more productive after engaging in physical activity.
What are your future goals?
To continue efforts to implement safe consumption sites in the United States. I also plan to continue being politically engaged and involved in drug policy reform in whatever shape that takes.
(By Stephanie De Leon)