University of Washington School of Public Health
Graduate Student Profile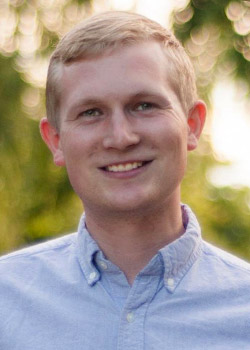 Peder Digre
MPH student, Global Health; MPA student, Public Policy
Hometown: Hendricks, MN
Peder Digre was recently appointed by Gov. Jay Inslee to represent students across the state on the Washington Student Achievement Council (WSAC). We caught up with Digre to learn about his work to improve global health and to find out what drives him to serve.
Why were you drawn to serve?
To help make our education system work better for students and to ensure that students are represented in the decisions that are going to affect them. I believe strongly in equity – that all students who want to pursue higher education should be able to do so.
What do you hope to accomplish?
To communicate the student experience behind state policies and suggest changes to benefit those in school or those pursuing higher education. I can't be a representative for all students, because I don't have the experiences of all students. What I can do is be an advocate.
How do you intend to do that?
By being curious, open-minded and a good listener. I want to learn what other students see as the big issues in education. I also hope to build connections between the council and both high school and college students. My voice can't be the only voice that the council hears.
What are the council's goals for the next year?
Our big goal is to improve the affordability of higher education. We do this by working with the state legislature and providing recommendations for funding, including for scholarships and grants. Another goal, and one that I am particularly interested in, is to improve college and career readiness. I think we can create more opportunities for students to gain practical experience. Also, college completion. We want to provide opportunities for people who started a college education, but never received a degree.
How did your interests in policy, health and education converge?
I'm studying both public health and public administration, so I'm naturally interested in how policy and governance affect the lives of people around me. Education is a key determinant of health. I want to explore how education policy impacts health outcomes and vice versa.
Why did you choose to study global health?
As an undergrad, I wanted to combine my interest in biology with my passion for serving people. A friend suggested that I take a public health course. I did, and it changed my trajectory. I thought, this is it. I was one of the first students to graduate from the global health minor program.
As for my master's, I think research is important, but it can take a long time before whatever you're working on is actually helping people. I want to be able to translate that research into more immediate results, and I'm gaining the skills I need to do that.
And health metrics and evaluation?
I think it's important to use our limited resources efficiently. To do this, we need to know what works. I'm studying health metrics and evaluation so that I can better assess the impact of our programs.
Tell us about your practicum.
I'm working at the Merrueshi Village Health Center in southern Kenya for six weeks this summer to conduct a needs assessment for community health. Two UW students are chosen to work at the clinic every year. I'm happy I was given the opportunity.
What inspires you most about global health?
Solutions to global health problems can come from anywhere. I see this often in my work at PATH. Also, global health is about collaboration. You need a wide variety of perspectives to tackle some of the world's biggest problems.
You've worked at PATH for four years. Tell us about your projects.
First, I supported a team developing a new formula for an oral rehydration solution. I also worked on an initiative called the Global Health Innovation Hub, which supports local innovators in South Africa to bring their ideas and inventions to market. Now, I'm on the strategy team. I recently worked on a report that presented 30 innovations to help meet the health targets of the sustainable development goals.
How do you fit it all in?
A good schedule and not a lot of free time.
When you do have free time, what do you do?
Hike, ski and travel when I can.
What is something that not many people know about you?
I learned how to speak Norwegian at the UW and then studied abroad in Norway as an undergrad. I was named after my great-grandfather who emigrated from Norway. While there, I was able to go to the farm where he grew up. It was a weird, full-circle experience.