University of Washington School of Public Health
Graduate Student Profile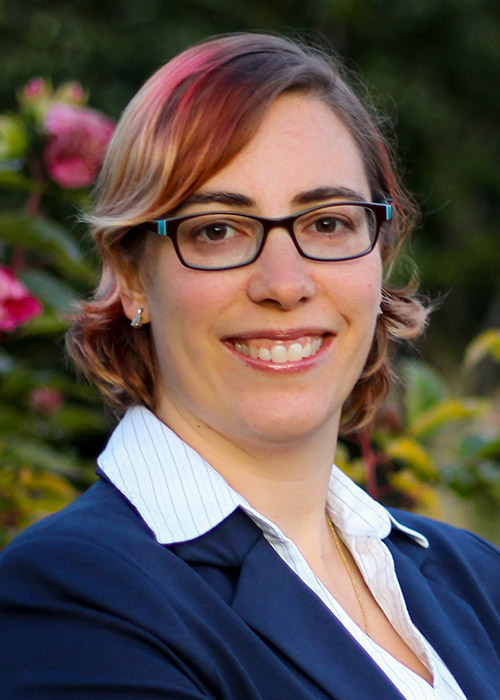 Elizabeth Oestreich
MPH student, Institute for Public Health Genetics
Hometown: Staten Island, New York
Learning to thrive as a mother, student, veteran and advocate
As her days of service in the United States Navy were coming to an end, Elizabeth Oestreich had little time to ponder what it would mean to be a civilian or a veteran — because she would soon be a mother.
Focused on her daughter, Sage, Elizabeth was distracted from the often-difficult transition to life after the military. It wasn't until after her second child, Lucas, that her passion for doing good and interest in solving puzzles brought her to the University of Washington and the School of Public Health.
"My kids know me as a veteran and it's part of my identity," Elizabeth says. "But my time in the military almost feels like a different life sometimes."
Driven to help people and to travel the world, she joined the Navy in 2002, and became an Arabic linguist. She had a mind for languages, having studied Spanish and German in high school and American Sign Language for a year at a community college. After passing an aptitude test, she went to the Defense Language Institute in Monterey, California, where she mastered Arabic and met her husband.
"Language is like a puzzle and I've always loved to figure things out," she says. "The more the pieces come together, the more other pieces start to fall into place. At first, nothing makes sense, but as you find small areas of meaning and as you learn words and phrases, you start to see the complete picture."
During her six years with the Navy, Elizabeth deployed to Iraq, Bahrain and on at least six different ships. Her main task was to translate important foreign intelligence. In her first deployment to Iraq, she earned a Fleet Marine Force qualification while working with a unit of Marines from Hawaii. On some of her favorite port calls, she visited beaches in Nice, explored historical sites in Jerusalem, and went indoor skiing in Dubai.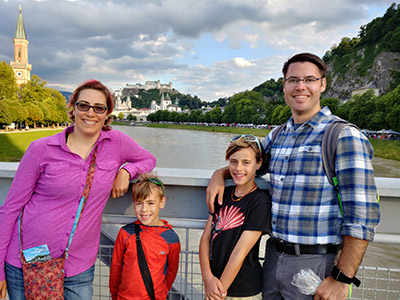 When she and her husband, Jim Youngquist, got out of the military, they moved to Seattle to be closer to her in-laws, who were living in Bellingham at the time. Youngquist enrolled in a computer engineering undergraduate program at the UW (he is now pursuing a PhD in computer science) and the family moved into student family housing.
When her kids were four and two, Elizabeth began taking classes at North Seattle Community College, then transferred to the UW to complete her bachelor's degree in biology. "I wanted to be a role model for my children and to show them that they can do whatever they want when they grow up, but they have to work hard for it," Elizabeth says.
With support from the Martin Family Foundation Honors Scholarship and Vocational Rehabilitation and Employment benefits from the Department of Veterans Affairs, she was able to pursue an MPH with the School's Institute for Public Health Genetics, an interdisciplinary program.
"Genetics is just another language — it has its own set of rules and uses," she says. "I'm fascinated by how fast the field is changing, and how then new discoveries impact people."
Elizabeth focuses on the ethical, legal and social implications of genetic discoveries. For her thesis, she is planning to look at informed consent in the military. In particular, she's interested in a military program that collects blood samples from members when they enlist, to facilitate the identification of remains. As of 2012, more than 6.5 million samples were being stored on bloodstain cards and, under current policy, the repository can retain the samples for up to 50 years. Most veterans Elizabeth has talked to, however, don't know the repository exists — creating an interesting ethical dilemma: Is informed consent possible in a setting where individuals are expected to follow orders?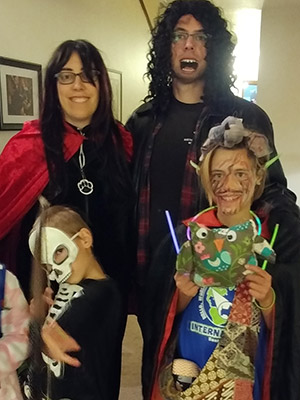 She plans to complete her MPH in 2018 and to pursue a master's in genetic counseling. A degree in the burgeoning field will be offered through SPH, in partnership with UW Medicine, in 2019.
An advocate for student parents, Elizabeth is in the process of creating an advisory board for residents of family housing on campus and a new Student Parent Advocacy RSO (registered student organization).
"As student parents, it can be challenging for us to balance all aspects of our life," she says. "This advisory board helps provide an outlet for residents to voice their concerns about living on campus."
Elizabeth also serves on the UW's Services and Activities Fee committee and is an executive senator for the Graduate and Professional Student Senate. She is a member of the SPH Dean's Advisory Council for Students and a student representative for the Institute for Public Health Genetics.
The Office of Student Veteran Life at the UW, she says, has been a support system for her and her family, and a valuable resource for the University's veteran population. On Nov. 10, in honor of Veterans Day, she plans to give a talk at her daughter's school to share her story and empower the young students to chase after their dreams.
When asked what her kids want to be, Elizabeth says Sage, now nine years old, waffles between a scientist, astronaut, soccer player and teacher. Lucas, now seven, wants to be a video game designer.