University of Washington School of Public Health
Undergraduate Student Profile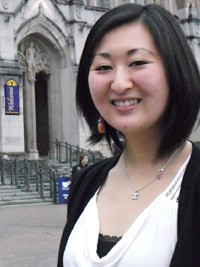 Momoka Nakamura
Senior, Environmental Health
Hometown: Seattle

What drives your interest in public health?
My biggest concern is global climate change. It's something we've already started and it's difficult to stop. A lot of organisms are affected, not just polar bears. And that affects the ecosystem, including mosquitoes, which in turn has an effect on human health, such as West Nile virus. I am interested in how human health is affected by the environment, which has been greatly manipulated by humans.
Why did you choose these two majors?
I've always been passionate for the environment, but wasn't sure if I wanted to focus on it at UW. But I needed to pick some sort of major when coming in as a freshman, so I chose environmental studies. I took several classes, and realized I enjoyed science and the relationship between humans and the environment. I feel that my Environmental Studies major will help me understand how humans have had an impact on the environment and what we are doing about it. It's more oriented towards effective communication, decision-making, sustainability and healthy nature. But I wanted to go beyond this, and learn about how our actions and practices affect our health. This is when I found Environmental Health to suit my interest.
Advice for other students?
While the UW School of Public Health is large, the undergraduate department of Environmental Health is really small, which makes each relationship you build with professors, advisers, and peers very personal and meaningful. Use this intimate opportunity to build networks; we have so many well-known and respected faculty members in our department
Future goals?
I tend to shift focus and goals as I learn more and more about the world. My current ideal career would be to work in a field that addresses climate impact on health; locally, statewide, or maybe even nationwide. Going back to school for a Masters is in my plan, too. But I'm generally open to anything related to human-environment relationship, sustainability, climate change and/or public health.
What do you do for fun?
Lately I've been addicted to blogging. I started last summer when I had an internship, and I've continued since. I love photography so I incorporate my photos into my blog; it's like a journal. My other hobbies include playing the piano, reading both English and Japanese books, and spending time with friends. I'm actively involved with multiple student associations, both academic and non-academic. It's a great way to meet new friends and become better acquainted with current friends. I can also enjoy more events on-campus this way.