University of Washington School of Public Health
Undergraduate Student Profile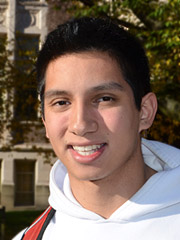 Matt Centeno
Senior, Nutritional Sciences Minor (Major: Psychology)
Hometown: Bothell (formerly New Jersey)
Why Nutritional Sciences?
It fascinates me how much food affects you, both physically and mentally. I used to eat anything, but a high school health class opened up my eyes. I played sports but became even more interested in health and fitness in general. I hope to someday apply what I am learning in my nutritional sciences classes to help others live a more physically healthy and productive life.
What sports did you play?
Basketball, football and track and field in high school. Now I do Muay Thai (kick boxing).
What do you plan to do with your degree?
Get some work experience and then I hope to pursue a master's in psychology. I'm looking at graduate programs that combine both psychology and nutrition. This would enable me to have a career in sports psychology or something closely related.
Why did you choose UW?
I was a student at Cascadia Community College in Bothell for two years before transferring to UW Bothell. The open learning environment and quality programs in nutritional sciences and community psychology were the main reasons I choose UW. Lots of my friends also attended CCC and are now at UW. Plus my family is nearby so I pretty much have everything I want right here.
What's it like to have two campuses?
You get smaller classes in Bothell. It's very interactive, good for discussions. But it's also nice to come to a bigger campus. It's possible to have classes in both places on the same day because the buses are good. I found that it is important to talk to an advisor on how to plan your class schedule so that it is manageable.
What do you do when you're not studying?
I work 25 hours a week as a cashier at a supermarket in Kenmore. I like interacting with customers. I never get bored. I don't judge what people buy, but I notice what comes through … a lot of junk food. When I see meat and vegetables, I think, oh, good.
How to juggle job and school?
You have to prioritize. I'm either studying, working, or working out with a couple of friends – in that order!
Describe an influential experience.
I traveled to Cambodia, Thailand and Japan last summer with my family. It was fascinating to learn about different cultures, and I even got to see professional Muay Thai fighters close up. As for the sights, the "White Temple" of Chiang Rai province was especially amazing.