University of Washington School of Public Health
Undergraduate Student Profile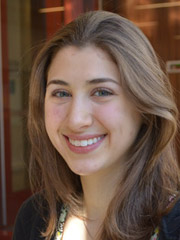 Ashley Bobman
Junior, Public Health (Minor: Nutritional Sciences)
Hometown: Mercer Island, WA
Ashley Bobman received the UW Sophomore President's Medal for maintaining the highest academic standing in her class and for the breadth and depth of her extracurricular activities.
Why are you interested in public health?
My grandmother, Rae Tacher, was a pancreatic cancer survivor. When I was younger, she would tell me stories about her amazing medical team. This, along with my desire to compassionately assist others and my love of math and science, inspired me to pursue a career as a nurse practitioner. As both a personal and a professional goal, I hope to have an impact on the health of the community.
How do you think a background in public health will help you?
Through the public health program, I hope to gain an understanding of the social and economic factors that affect people's well-being and quality of life. It will help me look at patients as a whole instead of just their particular diseases. I'm also pursuing a minor in Nutritional Sciences, and look forward to incorporating knowledge about food and exercise into my patient care.
Where do you volunteer and what do you?
At Seattle's Kline Galland home and hospice, I listen to the residents' stories and brighten their days through conversation, music and books. I have also volunteered at Swedish and Harborview Medical Centers, where I comfort small children and babies who were exposed to addictive opiate drugs while in the womb. Additionally, since 7th grade I have periodically helped out at the JFS (Jewish Family Service) Food Bank, distributing food to immigrant populations and making and distributing baskets during various holidays.
Tell us about your research into your Jewish heritage.
My great-grandfather, Albert Levy, was a journalist, educator and community leader. He edited the longest-running US newspaper in Ladino, a dying Sephardic language. Most people who speak and write it are currently in their 80s and 90s. I'm working on translating more than 400 pages of my great-grandfather's texts. I've done 11 works so far and now I'm writing my own original works in Ladino.
What do you like to do to relax?
I love getting together with friends for music sessions – we sing and some of them play guitar. I also enjoy a good workout and cooking with my friends. Additionally, I belong to the Poetry Brigade, an informal club at UW. We get together and share poems we have read, write poems, and do things like poem drops and on-the-spot poem writing for others around campus.
Why did you choose the UW?
I like the idea of a big school. It gives me a lot of options. There are a great variety of departments where I have the opportunity to contribute through research. Being admitted into the honors program was a big factor. It offers smaller classes of about 30 people and discussions with like-minded people.
The UW is also close to home. I could continue volunteering at all the places where I've built up relationships. There are many communities which are underserved in this area.
Share an interesting, unique or quirky fact about yourself.
I joined show choir in 2nd grade and continued it for 11 years!