University of Washington School of Public Health
Undergraduate Student Profile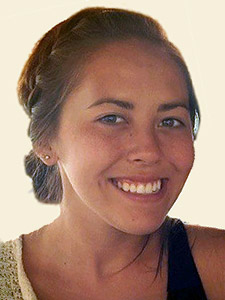 Erica LeSuer
Senior, Early Childhood & Family Studies (Minors: Nutritional Sciences, Global Health)
Hometown: San Jose, CA
What do you like most about public health?
How incredibly interdisciplinary it is. I had an idea that public health predominantly focused on medicine, but I've come to learn it connects environmental factors, economics, policy, and community into one expansive field.
Describe an influential experience.
I taught English for three months at a kindergarten in Budapest, Hungary. It was my first time traveling abroad alone, and it was an incredible, eye-opening experience.
What are your professional goals?
I hope to work in the nonprofit field with organizations that focus on improving the welfare of children globally. I am very passionate about children, and their development and well-being. They are incredibly vulnerable to environmental and health-related issues that delay development.
Advice for other students?
If you have an interest in public health, I would recommend taking some introductory classes. They may seem daunting at first because of the large class sizes and difficult course work, but you can really challenge yourself and learn a lot.
What do you like to do in your spare time?
Being outdoors! Hiking is one of my favorite activities. I also enjoying volunteering at Seattle Animal Shelter and I mentor a little girl with Big Brothers Big Sisters.
Other extracurricular activities or jobs?
During my first year at UW, I worked as a research assistant in the I-LABS at the CHDD, where we studied different behaviors of toddlers and how that correlates with their memory capabilities. I am currently a member of the UW's Global Health Undergraduate Leadership Committee. I have also been a part of UW Student Life's photography team for three years. I've been able to shoot events such as the Fall and Spring Fling, and various Husky athletic games.
Tell us something quirky about yourself.
I taught myself how to play guitar, ukulele, flute, trumpet, and trombone. My next goal is to learn the piano!