University of Washington School of Public Health
Undergraduate Student Profile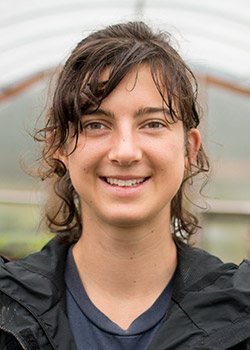 Anna Beebe
Senior, Public Health (Minor: Environmental Studies)
Hometown: Kingston, Washington
Why are you interested in public health?
I wanted to do public health because of how broadly you can apply it. I feel like we're in this prime phase for understanding that environmental health is public health and that public health can really be a catalyst - especially around food and farming.
What do you like most about public health?
I like that public health is about preventing disease, going to the root causes before they happen, saving money and improving quality of life before people get sick. I think that we are starting to realize how much we've been focusing on health care and not health itself.
What experience has been most influential?
It was realizing that no matter what I go on to do, I want to have growing food as a foundation. I haven't taken any farming classes, so everyday on the farm I'm learning so much. It's been really exciting.
What advice do you have for prospective students?
You don't have to know exactly what you want to do with a public health degree. Focus instead on the skills you're learning, on how to create community and coordinate involvement for a cause. Get out there and be with the population and understand from the ground up.
Do you have any interesting, unique, or quirky facts about yourself?
My parents were international schoolteachers, so I lived almost half my life in the Caribbean, Argentina, and the Czech Republic. I'm a climbing instructor and barista when I'm not working on the farm, and I really like cows. I think they're under-appreciated animals.
Anything else?
Weeding is really good for stress. I forget about school when I'm focusing on pulling out plants. And it's fun to just grab a leaf and eat it.