University of Washington School of Public Health
Undergraduate Student Profile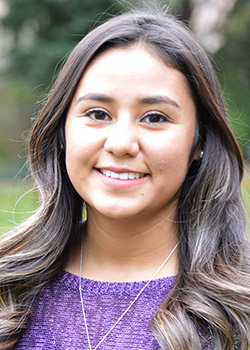 Miriam Flores
Public Health Major
Hometown: Pasco, WA
What's your story, how did you get to the UW?
I was born in Mexico and, along with my parents and older brother, immigrated to the U.S. when I was four. I grew up watching my parents work seasonal, agricultural jobs and I thought my fate was sealed. I didn't think about pursuing higher education until I was introduced to the AVID College Readiness Program. Through AVID—or Advancement Via Individual Determination—I explored other options, developed study skills and even took college prep courses. I wanted to make my parents proud, so I worked hard and graduated high school with an Associate's degree from Columbia Basin College.
Why did you choose to major in public health?
I'm motivated by the need to address health disparities, especially those that people in my community face. My hometown is mostly populated by immigrant farmworkers and many of these individuals, like myself, are undocumented. They have little access to health care and face harsh working conditions.
What experience at the UW has been most influential?
I took a course called Racism and Minority Groups, where I learned about race as a social construct and came to understand the hardships other minorities face. I also grew more confident about my own identity—I shouldn't be afraid or ashamed to be undocumented. This class created a safe space for students to talk about racism and race-related issues.
Thanks to the knowledge I gained through this course, I'm able to educate others about racism and microaggressions. I can better express my feelings and respectfully respond to injustices on campus. Race and racism can have an impact on health, and having a deep understanding about these topics is crucial to recognizing and solving health disparities.
What are your professional goals?
I'd like to attend graduate school and conduct research on how working in agricultural jobs affects the health and well-being of farmworkers. I'm also passionate about advocating for the rights of undocumented individuals.
How do you feel to be a recipient of the Undergraduate Student Assistance Fund Scholarship?
I'm honored and grateful for the support, which will allow me to continue working towards my academic goals. I'm determined to improve the health and well-being of underrepresented communities and this award is a huge vote of confidence.
What's one piece of advice you would give to prospective students?
Ask yourself, "What am I passionate about?" Don't chase a certain profession solely because it's high paying. Study what you love.
What kind of work or volunteering do you do?
I'm currently the outreach and recruitment officer for Unidas Seremos, an organization on campus that promotes diversity through cultural awareness, academic excellence and community service. I've volunteered for two quarters as a teaching assistant and tutor at the University District Youth Center. I'm also a first-year student's mentor through the Mentor Power for Success program.