University of Washington School of Public Health
Undergraduate Student Profile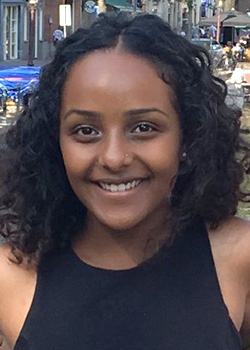 Hana Feseha
Health Informatics and Health Information Management
Hometown: Renton, WA
What do you think is most interesting about health information management?
Like most students in my field, I was excited about the competitive pay. I'm also enthusiastic for the opportunity to contribute innovative ideas to improving hospitals. I enjoy traveling and I like the idea that I might have more chances to travel while working. The most rewarding aspect, however, is being able to help people that are most in need.
Why did you decide to major in health informatics?
My original career of choice was nursing. I was accepted into the UW nursing program and started my practicum. One day, I had to stick a needle into a crying baby and I knew right away that I would be too terrified to continue on that path. HIHIM was the perfect path for me to provide quality health care without dealing with direct patient care.
What are your professional goals?
I want to work for Epic as a consultant. Epic is a program widely used by many hospitals to enter patient data. As an Epic consultant, I would be able to train hospital staff on how to use the program correctly. There is a solid job outlook and I enjoy learning about how the program works.
What advice would you give to prospective students?
To dig deep and figure out what it is that you want to do with a public health major. Only then will you be able to utilize your degree to the fullest.
What kind of work or volunteering do you do?
I'm a part-time employee at ATS automation. It's a heating and cooling control company in the heart of Renton. I have been an administrative assistant there for about two and a half years.
Please share an interesting, unique or quirky fact about yourself.
I recently returned from a public health study abroad program in London. I strongly recommend it to anyone who is interested in learning more about public health. My experience in the Dark Empire exploration seminar is one that I would choose to relive over and over again, if I could. The month-long seminar helped me to further understand the significance of public health and I was able to form new friendships while exploring Europe. It also gave me a chance to meet Dr. Clarence Spigner, who plays an important role in the School of Public Health.
What is your favorite thing to do during your free time?
I love to hang out with my nephew and watch Family Guy.