University of Washington School of Public Health
Undergraduate Student Profile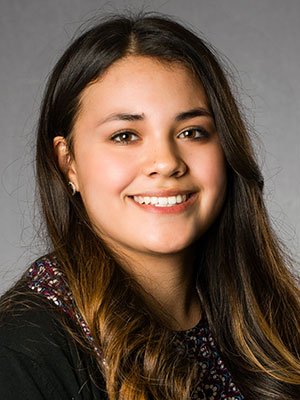 Teresa Mata-Cervantes
Public Health Major
Hometown: Wenatchee, WA
What do you think is most interesting about public health?
I find it fascinating how, within the field, you're never working alone. Everyone is working collectively to reach a common goal: worldwide health equity.
Why did you decide to major in public health?
I've witnessed firsthand the negative impact of miscommunication in health and health care. There is a substantial lack of health knowledge among minorities, mainly due to the language barrier. This sparked not only my desire, but a need, to enter the field.
Can you give us an example of how you've seen this play out in the real world?
During a summer internship for a community health group in Wenatchee, I noticed a surprising number of young Hispanic children translating for their parents and remembered how I had to do the same thing when I was little. I also remembered the frustration of not understanding health information, but needing to communicate it as efficiently as possible to my parents.
What projects have you worked on?
Under the guidance of Dr. Carmen Gonzalez from the Department of Communication and Dr. Jody Early from the School of Nursing and Health Studies at UW Bothell, I conducted a systematic literature review that will serve to inform the development of a culturally-tailored mobile health device that can be used by Latinx families to improve health access. It could also be used by promotoras de salud or community health workers for health promotion. I also conducted a qualitative focus group in Wenatchee with promotoras to explore their education practices and technology needs and to understand how they can be better supported in their health promotion work.
Anything else?
I'm also Dr. Early's research assistant and I'm assisting on a project to prevent sexual harassment in agriculture by sharing resources online and helping to complete a worksite training video with farmers and farmworkers.
What are your professional goals?
After completing an MPH program, I plan to return to my hometown and work for the local public health district to advocate for policies and design methods to better reach minority groups. I'd like to develop a program that helps communicate health information in a manner that is more accessible to minorities.
What advice would you give to prospective students?
Volunteer as much as possible. There is nothing more beautiful than being able to transform the lives of others through simple acts of kindness. I highly believe that as a public health student you need to know how to be selfless, have a passion for helping others and be willing to serve whenever there is a need.
What kind of work or volunteering do you do?
I assisted the elderly at a senior home for four years, I was involved in student government at Wenatchee Valley College, and I worked at a nonprofit called Together for Youth, which focused on substance abuse prevention and anti-bullying. I recently joined Unidas Seremos, a social support group for women at the UW. We try to give back to the community as much as we can.
What is your favorite thing to do during your free time?
Exercise. It makes me feel alive and prepares me to endure whatever comes my way. In particular, I enjoy running and hiking.
Please share an interesting, unique or quirky fact about yourself.
I'm obsessed with dogs. I have a little sister who is 7 and I sometimes use her as an excuse to pet a dog. I tell dog owners that she wants to pet them, when in actuality, it's me.