University of Washington School of Public Health
Health Sciences Common Book Series
2017-18 Common Book
Changing Planet, Changing Health
by Paul R. Epstein and Dan Ferber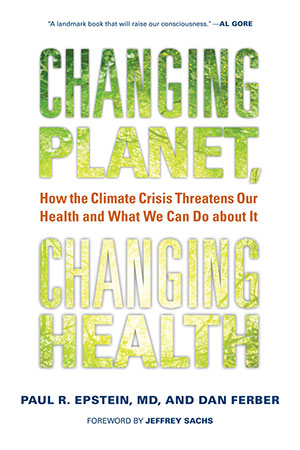 Each year, the Health Sciences Service Learning and Advocacy Group selects a common book that will engage students from across the health sciences in substantive, inter-professional dialogue about pressing topics related to health equity and social justice. Past choices have focused on drug addiction, racism and mass incarceration, homelessness and migrant farm-worker exploitation.
This year's topic is especially timely and relevant to all of us at SPH. Changing Planet, Changing Health - a well-known book first published in 2011 by the late Dr. Paul R. Epstein and journalist Dan Ferber - explores the links between global climate change and altering patterns of cholera, malaria, asthma and other diseases, while delving into the role of free markets and cap-and-trade proposals. The authors take us from the U.S. to Mozambique and Honduras while presenting innovative solutions to one of the 21st century's greatest challenges.
Copies of the book are available on reserve through the Health Sciences Library and the main UW Library, or you can purchase from your favorite bookseller.
Order online from the University Bookstore.
Publisher: UNIVERSITY OF CALIFORNIA PRESS
ISBN: 9780520272637
Publication Date: 06/12/2012