University of Washington School of Public Health
New Student Orientation 2015
Congratulations on your admission to the UW School of Public Health (SPH)! This orientation will introduce you to SPH and UW resources as you begin your graduate school journey. You will also have the chance to connect with your graduate peers, staff, and faculty within the School. We look forward to meeting you this fall!
Incoming Graduate Student Orientation
Friday, September 25, 2015, 11:00am-2:30pm
Location, Kane Hall 225 (Walker Ames Room)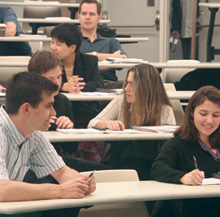 New Student Resources
AGENDA
Event

Location

Event

SPH Incoming Graduate Student Orientation Check In & Lunch Buffet

Walker Ames Room (Kane Hall 225)

11:00-11:30am

Office of Student Affairs (OSA) Welcome
Opening Remarks from the Dean
Lunch & Mingling

Walker Ames Room (Kane Hall 225)

11:30-11:35am
11:35-11:45am
11:45-12:00pm

The New Jim Crow: Common Book Discussion with faculty/alumni

Learn more about the Common Book

Walker Ames Room (Kane Hall 225)

12:00-12:45pm

Break/Transition to Kane Hall 220

Kane Hall 220

12:45:12:50pm

Making the Most of Your Graduate Education
Graduate Funding Information Services
Student Public Health Association (SPHA) : Getting Involved
Union Presentation

Kane Hall 220

12:50-12:55pm
12:55-1:20pm
1:20-1:25pm
1:25-1:55pm

Campus Resource Fair

Odegaard Writing and Research Center
Graduate Opportunities and Minority Achievement Program
UW Police Department
Safe Campus
Hall Health and Counseling
Student Public Health Association
SPH Diversity Committee
Rainbow Grads
Disability Resources
Graduate & Professional Student Senate (GPSS)
Student Public Health Association (SPHA)
Health Equity Circle

Lobby outside Walker Ames Room

2:00-2:30pm
Incoming Undergraduates
Students joining the School's undergraduate majors this autumn will receive orientation information directly from their respective majors.
Environmental Health Majors: contact ehug@uw.edu
Health Informatics (HIHIM) Majors: contact hihim@uw.edu
Public Health Majors: contact phmajor@uw.edu