Why is gun violence a public health issue?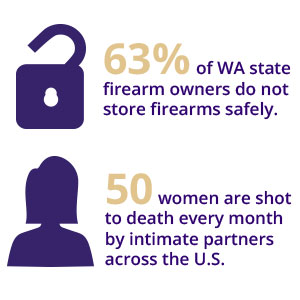 Every 4 minutes in the United States, someone is injured or killed by a firearm. Our research helps policymakers and public health experts understand the patterns of violence and unintentional injury and who is most at risk. With better data, policymakers can take steps to save lives and reduce injuries.
"From the public health perspective, we need to collect data," says Ali Rowhani-Rahbar, the UW's Bartley Dobb Professor for the Study and Prevention of Violence. "Data can tell us the magnitude or size of the problem, as well as the pattern of the problem, and that's how you make policy decisions, with informed choice. That's exactly what we've done for car collisions. We've made great progress. Same for smoking and tobacco. These are examples of success and triumph for public health. Here, we can do the same."
Nearly 40 years of research on firearm injuries and violence.
Since the 1980s, the UW has been conducting research on firearm injury prevention and violence. Some of our pioneering research found that in homes where firearms were kept, the risk of homicide or suicide increased significantly. Since then, there has been very little federal funding overall for studies into firearm injury research. The lack of funds has left gaps in research.
Local, state and private organizations in Washington state have recently stepped up to promote a robust research agenda:
The City of Seattle funds groundbreaking research at Harborview Medical Center.
Grandmothers Against Gun Violence contributed $20,000 to sponsor several studies at SPH.
The Washington State Legislature approved $1 million in funding for UW HIPRC gun violence research in the 2019-2021 biennium.
Kaiser Permanente is supporting a clinical research study at the UW as part of a $2 million dollar pledge to prevent gun injuries and deaths.
Firearm violence affects Americans on a daily basis. A public health approach to studying it is imperative for reducing its heavy burden in our communities.
Research with impact
In 2018, UW researchers found that most firearm owners in Washington state did not follow firearm safe-storage practices. Storing firearms unlocked and loaded increases risks of firearm-related injuries and deaths.
The City of Seattle cited this research before creating an ordinance requiring safe storage and imposing fines if firearms were not stored safely.
In another study, UW investigators found that people admitted to the hospital for treatment of a gunshot wound were 21 times more likely than other patients to be shot again. 
Now, these investigators are evaluating an intervention at the Harborview Medical Center that seeks to improve the health and well-being of gunshot wound victims.