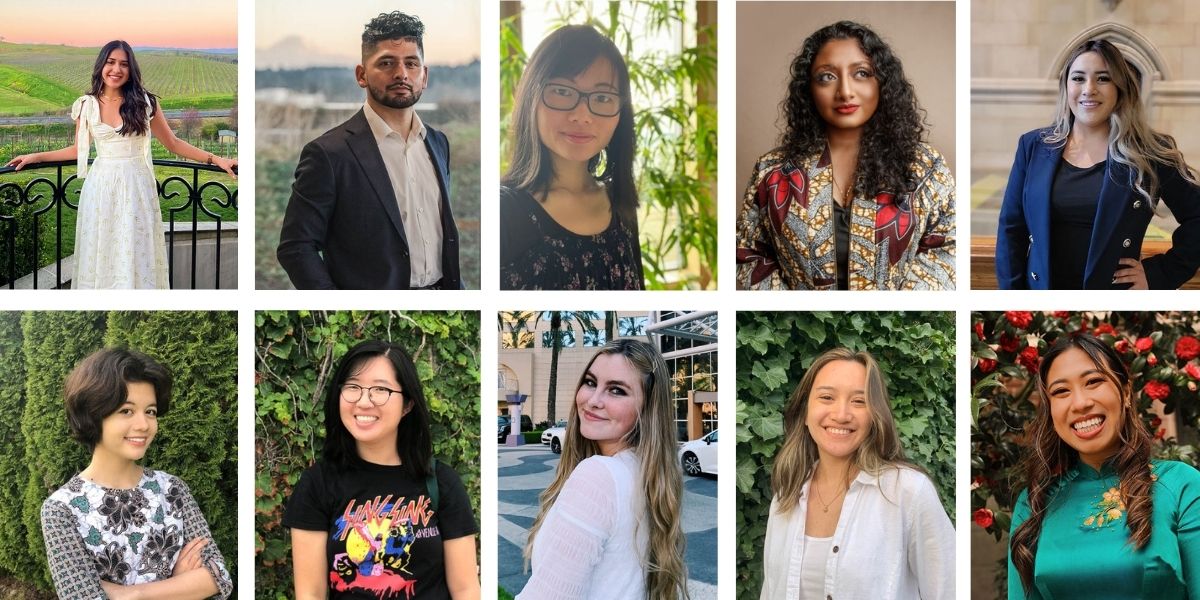 This year's annual Husky 100 awards have recognized 11 students within the School of Public Health for making the most of their time at the University of Washington. 
These students are studying for doctorates, master's, or undergraduate degrees, including majors and minors within SPH fields. 
Each year, the Husky 100 recognizes 100 undergraduate and graduate students from the UW Bothell, Seattle and Tacoma campuses in all areas of study. These students actively connect what happens inside and outside of the classroom and apply what they learn to make a difference on campus, in their communities and for the future. 
A huge congratulations to our student public health leaders! 
Aarti Tandon, B.A.: Food Systems, Nutrition, and Health 
As an aspiring physician and public health advocate, my UW experiences have ignited my passion to empower people to reach the help they need. My time as a Husky has enabled me to take small-scale solutions and use my imagination to extrapolate the way in which they can be applied globally for broader change. The science of medicine inspires me because it can enact social welfare. I hope to bridge the gap between the two disciplines and thereby bridge the gap between the have and the have-nots. 
Yoni Rodriguez, MS, Occupational Hygiene, in the Department of Environmental & Occupational Health Sciences
I am a proud son of an Oaxacan father and a Coliman mother. As a first-generation graduate student, I honor my family, community, and mentors by prioritizing research that focuses on eliminating environmental hazards to reduce the vulnerability of populations characterized by deep disparities in health and socioeconomic status. I believe all communities have the right to clean air, water, and food regardless of social class, race, religion, or nationality. 
Gabriela Claravall, B.S.: Public Health-Global Health; B.A.: Medical Anthropology and Global Health; B.S.: Anthropology of Globalization
As a proud daughter of Filipino immigrants and an aspiring physician, I look forward to advocating and serving underrepresented communities. My husky experience helped me integrate the knowledge and skills I've acquired, approach service-learning through a critical lens, focus on social change, and form authentic relationships with communities. I hope to help advance healthcare grounded on dismantling structural inequality, redistributing power, and improving the health of patient populations. 
Ramya Kumar, MPH, PhD: Epidemiology 
At the UW I learned to re-envision the margins as places empowered by transformative resistance. Here, I am supported by a community of change-makers with marginalized identities. We uplift each other and recognize our own personal power—despite what systems of oppression may tell us. I am an emerging global health leader, epidemiologist, yogi, and activist committed to equitable partnerships on the African continent. All that I am or hope to be, I owe to the single mother that raised me. 
Monserrat Morales Miranda, MPH: Department of Health Systems and Population Health 
With the skills and values, I have gained as a UW student I hope to join the public health workforce to promote healthcare equity, quality, and accessibility. Navigating the higher education system as a first-generation and immigrant student has been a challenge that continues to impact me. I am grateful I found guidance and mentorship from UW faculty which has allowed me to become more confident in who I am as a public health practitioner. 
Tiara Schwarze-Taufiq, B.S.: Public Health-Global Health; B.S.: Neuroscience, Labor Studies minor 
As a Husky, I have synthesized my knowledge across disciplines to promote a better life for people with neurological conditions through research, tutoring, and an initiative I founded to promote solidarity among neurodivergent students. By serving diverse populations, I have gained a nuanced understanding of healing and relationship building. My time at UW has provided a strong foundation for a lifetime of meaningful engagement with marginalized populations as a public health professional. 
Carolyn Fan, Ph.D., Health Services in the Department of Health Systems and Population Health  
As a Ph.D. student in Health Services, my research focuses on health equity across race, sexual orientation, and gender. I aim to illuminate the importance of bringing the lenses of intersectionality and structural racism and oppression to the public health field. I am so grateful for the opportunities I've had during my time at UW to uplift health equity, both on and off campus. 
Paytan Murray, B.A.: Law, Societies, and Justice, Global Health minor
I aspire to become a lawyer that specializes in the intersection between international human rights and climate justice law, establishing protections for those who face intersectional discrimination or are socioeconomically disadvantaged. At the University of Washington, I am constantly drawing connections between my courses and hardships that I have personally overcome, utilizing my first-hand experiences through entrepreneurial means, seminars, and essays to promote educational equity for all. 
Andrea Jade Scallon, B.A.: International Studies, Global Health minor
Through the lens of healthcare, UW has provided me with the language and knowledge, the research and advocacy skills, and the compassion and resilience to support people during their most difficult and vulnerable moments, my greatest life goal. As I pursue a career as a physician, I am grateful for my family—Canadian ranchers and Hong Kong immigrants—for instilling in me courage, care, and community which positioned me to navigate my Husky Experience with these same values. 
Kathy Hoang-Nguyen, B.S.: Neuroscience; B.A.: Biochemistry, Global Health minor 
I am the daughter of Vietnamese immigrants and the accumulation of the strength and resiliency of the communities I grew up alongside. I've learned to approach multi-faceted adversities and opportunities with tenacity: from conducting clinical research to coordinating international conferences. UW is where my passions for community-based and geriatric care took root, and where my passions for collective healing, advocacy, and community outreach continue to bloom. 
Nuria Alina Chandra, B.S.: Computer Science, Global Health minor
During my time at UW, my academic interests have wandered and shifted, eventually leading me to study computer science and global health. Beyond the classroom, I have done research in clinical medicine and computer science. I write science communication and social-justice related articles for The Daily, and I enjoy helping other students on their UW journeys as an Undergraduate Research Leader and a Honors Peer Mentor.