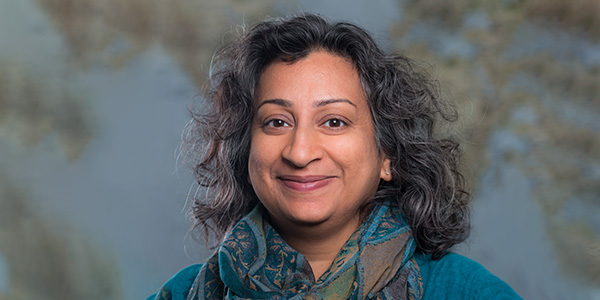 The University of Washington School of Public Health is pleased to announce Deepa Rao, Ph.D., M.A., as Vice Dean for Faculty, a newly expanded role from her previous position as interim Senior Associate Dean. Rao will work with members of the Office of the Dean and departments across the School to develop a holistic faculty mentoring and professional development program for the School of Public Health, centering the School's commitment to becoming a more anti-racist organization.
In her role as Vice Dean for Faculty, Deepa will provide leadership and strategic vision for faculty advancement, in addition to overseeing faculty appointments and promotions in the School. Rao will work closely with the Assistant Dean for Equity, Diversity and Inclusion; the Director for the Center for Anti-Racism and Community Health; Academic Human Resources; Department Chairs;Faculty Council; and the School's EDI Committees. In collaboration with these groups, Rao will work to ensure current policies and practices align with best practices outlined by the UW Office of Faculty Advancement; the updated UW Diversity Blueprint; and the School's own Strategic Plan.
"Deepa brings to her role deep expertise in how to incorporate anti-racist principles into how we run our organization, particularly in how we recruit, mentor and support our faculty. She is a fantastic change agent and a wonderful addition to our leadership team" shared Hilary Godwin, dean of the UW School of Public Health. 
Rao has been a professor in the Department of Global Health since 2009 and holds a joint appointment in UW Medicine's Department of Psychiatry and Behavioral Sciences. She is a licensed clinical psychologist who has led several large, multi-site NIH and CDC projects to develop, implement and scale mental health services that reduce stigma and improve engagement in health care throughout the world. She has mentored numerous graduate students, postdoctoral fellows, junior and mid-career faculty, within and outside of the United States. Rao is currently serving as the director of the developmental core of the new Behavioral Research Center in HIV and Mental Health (BIRCH), director of the Behavioral Science Core of the UW/Fred Hutch Center for AIDS Research (CFAR), and the director of the MPH program in Global Health. 
"I'm thrilled to continue this bold and exciting work alongside our faculty, my colleagues in the Office of the Dean, and our visionary Dean," shared Deepa Rao, Ph.D., M.A. "I am excited to continue to learn from SPH faculty, staff, and students in this role and support the School's faculty by centering anti-racism, equity and social justice in our processes. I look forward to seeing what we can further co-create to  encourage a climate of support and belonging in our school."