In founding our School of Public Health in 1970, Emeritus Dean Dr. J. Thomas Grayston laid the foundation for more than 40 years of leadership, building a towering legacy in public health education and research.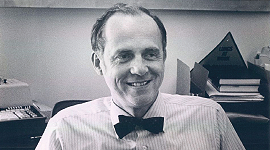 When he arrived at the University of Washington in 1960, there were four other faculty members in public health (then called Preventive Medicine). Tom's first goal was to improve the research activities of the School. By 1970, when the School was officially established (it was the only school of public health west of Minneapolis and north of San Francisco), Tom had recruited and grown the School with 40 faculty members who welcomed the first class of students.
Nearly 50 years later, the UW School of Public Health is first in the world for publicly funded schools of public health. To honor Tom's impact, the Grayston Society was established in 2014. Grayston Society members – our closest alumni, friends and donors – help ensure the School has the financial resources for faculty and students to continue groundbreaking research, fieldwork and instruction that has tangible impact in communities around the globe and at home. Join us with your gift today!
To learn more about the Grayston Society, please contact Monet LaForge, Assistant Director for Advancement, at mlaforge@uw.edu or (206) 543-4047.