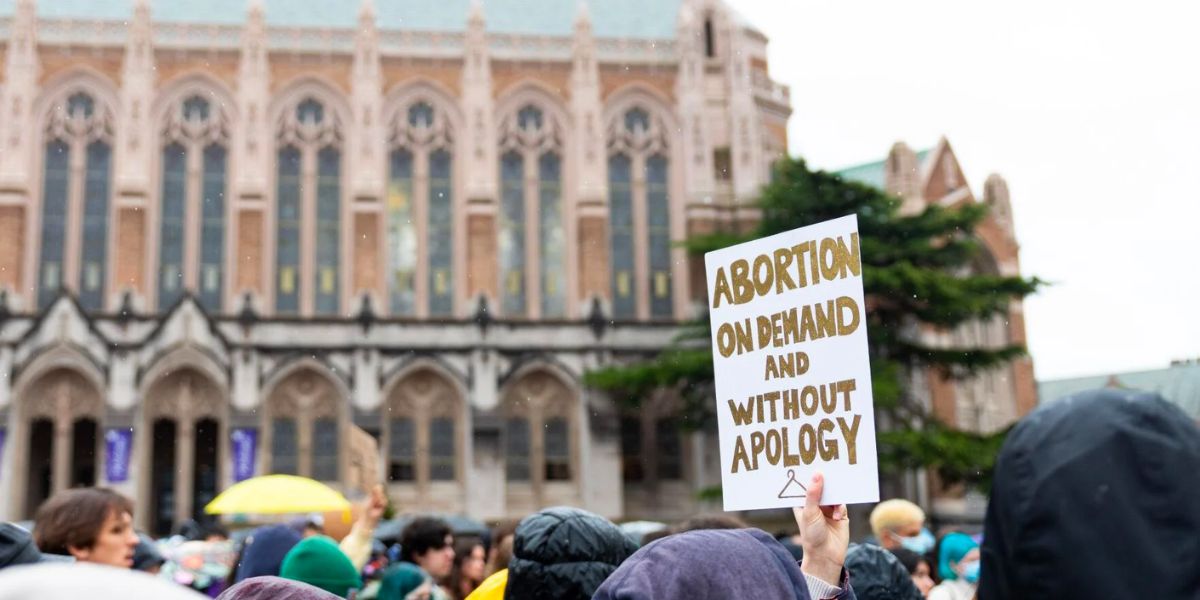 Editor's note: On Friday, June 24, the U.S. Supreme Court overturned Roe v. Wade with its 6-3 ruling on the Dobbs v. Jackson Women's Health Organization case, which challenged the constitutionality of a Mississippi law banning most abortion after 15 weeks of pregnancy. This story, originally published June 10 after the leaked draft of the opinion was obtained by Politico in May, has now been updated to reflect the official ruling.
With the U.S. Supreme Court overturning Roe v. Wade and ending the constitutional right to abortion, researchers from the University of Washington School of Public Health share the impact of abortion restrictions and criminalization on public health and healthy equity, as well as the potential impact on health care policy in Washington state. 
"Abortion criminalization is a public health crisis and public health practitioners and researchers have important roles to play," said UW School of Public Health epidemiology researcher Taylor Riley. "Abortion has been politicized, but access to abortion is fundamentally about human rights, bodily autonomy and public health." 
Our researchers included here are: 
Taylor Riley, a reproductive and social epidemiology researcher in the Dept. of Epidemiology doctoral program. Previously, Riley worked as a Senior Research Associate at the Guttmacher Institute. 

Daniel Enquobahrie is an associate professor in the Depts. of Epidemiology and Health Systems and Population Health, and lead of the Maternal and Child Health program. 

Aaron Katz is a principal lecturer emeritus for the Dept. of Health Systems and Population Health, who researches health care policy and public health policy. 
Nearly half of US states have banned, or will soon ban, abortion, after Roe v. Wade was overturned June 24, 2022, according to the Guttmacher Institute. What are the public health consequences of this?
Riley: There are a few ways overturning Roe will have devastating impacts on public health.  
First, there are the short and long-term health, social, economic, and psychological impacts of being denied a wanted abortion. A large body of research from the Turnaway study has shown that people who were denied a wanted abortion experienced elevated levels of anxiety and stress; increases in poverty, debt, and evictions; and their existing children had worse child development outcomes compared to children of people who received an abortion. 
Second, banning abortion does not stop abortions from occurring. People have always had abortions and will continue to do so but making it illegal can lead to unsafe abortions. To be clear, we are not in a pre-Roe world which means we now have highly safe self-managed medication abortion, which is a combination of mifepristone and misoprostol that can be taken at home to end an early pregnancy. Because of these advancements, banning abortion may not lead to increased deaths from unsafe abortions if people can effectively and safely use these methods. However, it will result in increased criminalization of pregnant people, depending on where you live and it will disproportionately impact Black, Indigenous, and other pregnant people of color.  
This criminalization of pregnancy outcomes can have detrimental health effects on individuals and their families and communities. The existing trigger bans and recent onslaught of anti-abortion legislation in these states aim to restrict abortion access through criminalizing the people who receive or perform abortions (or even aid in the process of accessing an abortion). This will expand policing and incarceration, which disproportionately harms Black, Indigenous, migrant, disabled, working class, and trans people.  
And finally, abortion is an extremely safe procedure. Pregnant people are 14 times more likely to die during or after birth compared to receiving a legal induced abortion. Overturning Roe will result in more pregnancies carried to term, which can lead to more pregnancy-related complications and even death. 
How is access — or lack thereof — to abortion linked to social determinants of health? 
Riley: Reproductive justice leaders, like the national organization SisterSong, have always framed the issue of abortion access within a larger context of social and structural determinants of health. This is crucially important for understanding the disparate impacts of anti-abortion laws and how access to abortion is connected to larger issues of racial, social and economic justice. Reproductive justice was coined by Black women in 1994 in response to the reproductive rights movement, primarily led by middle-class and wealthy white women, focusing on abortion as an individual choice. Reproductive justice posits that beyond having the right to not have children, people also have the right to have children and to parent the children they do have in safe, healthy and sustainable environments. As public health professionals, it is crucial we listen to and mobilize around the knowledge, expertise and vision of reproductive justice leaders in this moment like National Birth Equity Collaborative,  National Latina Institute for Reproductive Justice, Black Mamas Matters Alliance, In Our Own Voice: National Black Women's Reproductive Justice Agenda and, locally, Surge Reproductive Justice, just to name a few.  
The US has a high rate of maternal morbidity and mortality. How will this be impacted by restricting abortion access? 
Enquobahrie: The US has one of the highest maternal morbidity and mortality rates among higher-income countries. Restricting abortion access can substantially make this situation worse. While abortion is generally a safe procedure, abortion restrictions can lead to unsafe abortions that are complicated, contributing to higher maternal morbidity and mortality. The restrictions and barriers pregnant people face in pursuit of an abortion can delay critical prenatal care, particularly for unintended pregnancies that constitute 40-50% of pregnancies.  
Ample evidence exists for the importance of prenatal care in preventing pregnancy complications and improving pregnancy outcomes. Several studies have shown that states with more restrictive abortion policies have higher maternal mortality and weaker policies and services that support the health and well-being of pregnant people, such as prenatal care.  
Finally, any limitation to abortion and reproductive services will impact communities of color very hard and significantly accelerate the already significant racial/ethnic disparities in maternal morbidity and mortality.   
How will restricting abortion access exacerbate the health disparities in maternal mortality that already exist? 
Riley: Abortion criminalization is part of the larger maternal health crisis in the US. Research suggests there would be an estimated 21% increase in the number of pregnancy-related deaths overall and a 33% increase among Black pregnant people because there are higher risks in pregnancy compared to abortion. 
In the initial hearing of the Dobbs v. Jackson Women's Health Organization case, the National Birth Equity Collaborative and reproductive justice scholars and advocates wrote an amicus brief that outlined the disastrous health impacts of this law for maternal health, particularly among Black pregnant people in Mississippi.  
What are the positive economic and health impacts of people having access to abortion and other reproductive health services? 
Riley: Being able to access essential health services like abortion and gender-affirming care is central to having bodily autonomy, dignity, and leading a self-determined life. There is a large body of evidence showing the benefits of having the ability to decide whether and when to have children. These include people being able to achieve their educational and career goals and improved mental and physical health of both the parents and their existing children. 
What can people in public health do about this?  
Riley: Abortion criminalization is a public health crisis and public health practitioners and researchers have important roles to play. Abortion has been politicized, but access to abortion is fundamentally about human rights, bodily autonomy and public health. It is incumbent on public health and medical professionals to speak up about the importance of protecting this right and confront and not be complicit in the criminalization of pregnancy.  
We also need to combat misinformation and share accurate information. Self-managed abortion is common, safe and effective. For people in states where abortion is restricted and have or will soon be banned with Roe overturned, there are important resources for support, including a confidential, private and secure phone and text hotline for support for self-managed miscarriage or abortion; a free, confidential source for legal advice and information on self-managed abortion; and current, secure information on where and how to get an abortion. Additionally, crisis pregnancy centers are increasing across the country and their goal is to prevent abortions by persuading people that adoption or parenting is better. They pose as clinics that can give medical services and advice but they are not actual health facilities and spread disinformation about abortion and pregnancy care. We in public health must confront the disinformation of the anti-abortion movement and actively engage with community and reproductive justice leaders to protect the human right to essential health care like abortion and other reproductive health care.  
With Roe v. Wade overturned, how will the health policy impact — if any — be felt in Washington state? 
Katz: For Washington residents getting, or having the potential to seek, care within the state, I think the effect would be negligible in the short term.  State laws, dating to 1970 and as recently as 2022, protect access for people seeking abortion services and for those who assist them.  The state also requires insurance plans that cover maternity services to cover abortion. 
The effects would be somewhat more significant for residents of other states – those that would further restrict or ban abortions in the wake of Roe being overturned, such as Idaho – who might travel to Washington for care.  I say "somewhat" because the effects of very restrictive state laws are already being felt, even before the leaked draft SCOTUS opinion.  Washington abortion providers have already seen more patients travelling from states like Texas, which has essentially banned abortions after 6 weeks. 
Mid- and longer-term effects depend on many factors, not the least of which are the November 2022 and 2024 elections.  Some national and state-level Republicans have already suggested that, if they regain power in Washington, DC, they might seek a national abortion ban and/or seek to criminalize abortion. Such a development would pit states like Washington against the federal government; I don't know how that power struggle would unfold. 
One important point here is that, even though state law protects the right to seek and receive abortion services, those services are not always actually accessible; we've seen considerable consolidation among hospitals in Washington, and specifically Catholic hospital systems. One estimate from a 2020 Community Catalyst report indicated that 41% of hospital beds in Washington were in such religious-governed systems.  These organizations often prohibit their facilities and providers from providing certain services, like abortion or aid-in-dying, for religious reasons, despite state laws that aim to protect access to these services. So, in some communities in our state, abortion access is very difficult. 
A final point is that state-level restrictions/bans are heightening the demand for telemedicine consultations about abortion and for abortion pills.  I wouldn't be surprised if medical and pharmacy providers with a physical presence in these anti-abortion states become more reluctant to provide these services in the face of potential lawsuits, fines, or arrests.  Perhaps such providers in Washington will increase their "virtual" presence to serve these out-of-state patients (though this is also subject to regulations around telehealth across state lines); again, that might require hiring more personnel and strengthening the technical systems that would facilitate online consultations and ordering. 
It's predicted that there will be an influx of people coming to Washington state for abortions. How will Washington's health care landscape be shaped by that? 
Katz: This influx is already happening.  I expect providers of abortion services will be figuring out how to ramp up service capacity to meet this increased demand.  That could entail seeking to hire more personnel — if they can find such people to hire — and expanding clinic capacities.  Also, we're already seeing an increase in fundraising to help lower-income people pay for travel expenses. 
Considering Washington's current health policy landscape, do you foresee that future action will be needed in the state to ensure that reproductive health services are protected? 
Katz: The big question here is whether abortion opponents seek to build on a reversal of Roe through a national abortion ban or by criminalizing the service. That will pit states like Washington against the federal government; I certainly am not in a position to know how such a wrestling match would turn out. Could, for example enshrining access to abortions in Washington's state constitution withstand a national ban, given the ultra-right-wing make-up of the U.S. Supreme Court? 
For states like Washington that are looking to enshrine abortion rights in the state constitution, what's the feasibility? 
Katz: I think generally voters are much more skittish about amending the constitution than about amending state law…and for good reason. The bar to change the constitution is quite high, so a change in one year is very difficult to reverse or amend in a future year. So, I think a campaign to enshrine abortion access in the state constitution would be a very heavy lift – not impossible, but a big challenge. 
Although I think the polls show continued support for abortion access in this state, I suspect (but don't really know) that many people support some restrictions based, in part, on what medical science knows about the fetus at various stages and whether/when it is "viable."  Given that medical science is constantly changing, some voters may be reluctant to amend the constitution, which would make it hard(er than amending state law) to respond to new scientific knowledge.