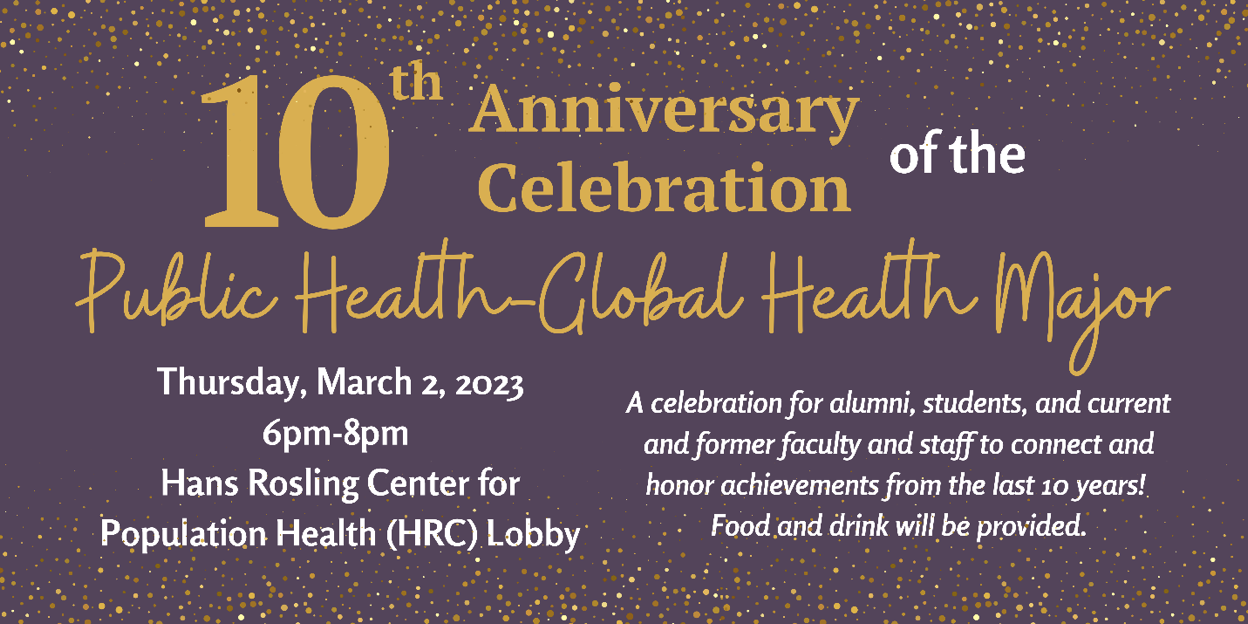 The Public Health-Global Health Major (formerly Public Health Major) will celebrate its 10th anniversary on Thursday, March 2, 2023, 6:00pm-8:00pm in the lobby of the Hans Rosling Center for Population Health.  
The celebration is an opportunity for alumni, students, and current and former faculty and staff to come together, reconnect, and honor achievements from the last 10 years.  Food and drink will be provided.
Additional updates about the anniversary celebration will be posted here leading up to the event.
Questions?  Please email phgh@uw.edu.
Frequently Asked Questions 
COVID-19 
Current information about COVID-19 and UW's guidance can be found here. 
Access & Accommodation 
The University of Washington is committed to providing access and accommodation in its services, programs, and activities. To make a request connected to a disability or health condition, contact the Public Health-Global Health Major at (206) 221-4561 or phgh@uw.edu at least ten days in advance of the event date. 
Getting to the Event 
There are several ways to get to the anniversary celebration located in the Hans Rosling Center Lobby.  Below are a few examples. 
Parking 

Information about parking is available here.  The Central Plaza Garage is the closest parking garage to the Hans Rosling Center. 

Light Rail 

The Link Light Rail has two stops on or near UW Seattle's campus.  One is the University of Washington Station and the other is the U District Station. 

Bus 

King County Metro has several busses that stop near the Hans Rosling Center.  Its website has a helpful tool to plan your route available here. 
Enter the Hans Rosling Center through the Northwest entrance located off 15th Avenue NE (where the Starbucks is located in the building).
What is the Attire for the Event? 
Suggested attire is business casual.
What Should I Do When I Arrive at the Hans Rosling Center? 
Check in at the welcome table located in the lobby to collect your name badge and receive a brief orientation. 

Read a series of student profiles celebrating the 10th Anniversary of our Public Health-Global Health Major.
PH-GH Major Profiles »