Why did you go into public health?
I'm from a lefty political family. It's been wired into me that I was going to do something that mattered to people. Health policy shapes the ability of people to be healthy.
Health was a theme in my family. My mother, a medical tech in the Army in WWII, would've been a physician if she hadn't had four kids. My older brother went to medical school. My older sister went to physician assistant's school.
But clinical work was not in the cards for me. I don't do well around needles. I kind of live at 30,000 feet. That's just how I think.
Aaron Katz on education and discovery
Why did you major in zoology?
When I wasn't in the streets, I was originally pre-med. I wanted a major that gave me flexibility to explore different aspects of that stratosphere. I took political science, philosophy, sociology courses and that evolved into public health. I researched the early history of the Milwaukee Health Department, and the Tuskegee incident in the US Public Health Service.
You were in the streets?
I was very involved in both planning and participating in protests against the war in Vietnam in Madison (Wisconsin). It was the early 1970s. That was just in the air.
What was your first professional job?
I worked with the state pollution control agency in Minneapolis. As a young nothing, I got to work on air pollution and land-use policies related to environmental degradation.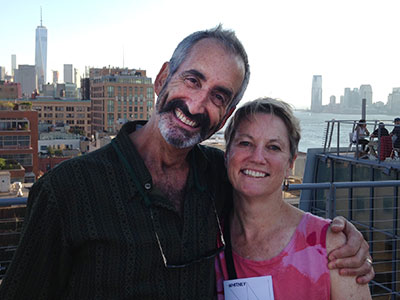 With wife, Kate, at the Whitney Museum in NYC
What brought you to Seattle?
It was a push and a pull. The two winters in Minneapolis were horrendous. It was terribly cold for weeks on end and snow up to your ears. It's hard living like that. You spend a lot of energy just staying warm, shoveling, worrying about the car next to you on the road. I'd had it. The pull was on old girlfriend who was out here.
What's your research specialty?
I've focused on how health care markets have functioned in relation to health-care policy and how they affect people: Outcomes, access, finances and well-being. Do people get the care that they need at the time they need it for an affordable price? That's always what matters to me.
Are you pleased with the Affordable Care Act?
"Do people get the care that they need at the time they need it for an affordable price? That's always what matters to me."
I have a lot of passion for what it's trying to do. I've been both a critic and a supporter. We know the coverage expansion through Medicare and the insurance exchanges is working. The uninsured rate dropped below 10 percent – a humongous accomplishment because we've never been able to do that before.
It's really important for people to have health insurance because it's so expensive otherwise. I've been working now for 35 years on this stuff. It's good to see some real progress.
But I'm quite skeptical about the efforts to improve health and to reduce costs, or at least reduce the rates of increase. In our fragmented system, I wouldn't bet much of my retirement on those provisions. If we can't hold down spending, history tells us the coverage expansions will be at risk.
Highlights
Principal lecturer, Health Services
Adjunct principal lecturer, Global Health and Law
Contributing blogger, State of Reform
Co-founder, Community-Oriented Public Health Practice program
CPH, Public Health, University of Toronto, 1975
BS, Zoology, University of Wisconsin, 1974
Will researchers be able to measure whether the ACA improves health?
It'll be hard to definitively attribute, but certainly the ACA should contribute to health outcomes, and we should be able to figure out the most likely ways. A lot of other public health efforts are ongoing, from creating local bike plans to inserting health into city planners' thinking.
What kind of global health work are you doing?
I'm doing some analyses around the legal environment in selected countries that received PEPFAR money from the US government – Uganda, Tanzania, South Africa and Nigeria. We're identifying the legal environment around the age of consent for a child with HIV to be counseled, tested and treated. A kid is unlikely to come back for treatment after leaving a clinic if she has to get her guardian's consent. On the other hand, for adherence to treatment, a child needs a strong social support network. That's why you want parents and guardians involved. Those are the kinds of issues we're looking at.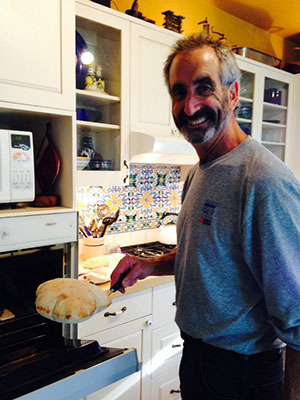 Making pita bread at home
Tell us about your teaching.
I teach health policy and health systems. When I started at the UW in 1988, I didn't come here to teach. I came to work at the Health Policy Analysis Program (HPAP) – the school's service team that worked with state policy makers on issues. Ed Perrin, then chair of Health Services, kept nudging me to teach. I did it very reluctantly. My aim was changing the world, and I saw teaching as a diversion from that.
But I have come to love working with students. They are some of the most satisfying relationships I have here. I was one of the founders of the Community-Oriented Public Health Practice program, which features real-world problem-solving. I was skeptical at first, but now I'm passionate about what kind of pedagogy actually allows students to really learn stuff. (See video above)
What are you most proud of?
On the policy level, my greatest accomplishment was also my greatest failure. HPAP staffed a state commission for two years to come up with a health care reform proposal, which was passed by the state legislature in 1993. It was more comprehensive and would have worked better than the ACA. Then two years later, it was repealed by the then-Republican legislature. Parts of the reforms were kept in place.
What did you do on your sabbatical last year?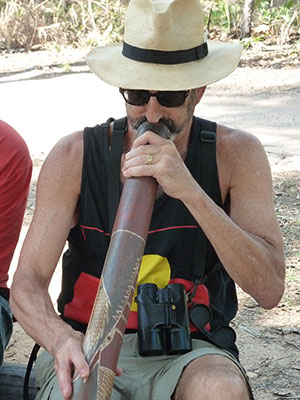 Trying to play the didgeridoo near Darwin, Australia
I spent six months at the University of Queensland in Australia. I took part in a research project on aboriginal health and how information is used by policymakers. I would recommend to every young faculty member (and I'm not young) to go on sabbatical. I read when I felt like reading. I spent a lot of time with one colleague talking about teaching and learning, and how you create an environment for students who aren't there physically with you. It was so nice not being on a treadmill.
What do you like to do outside of work?
I love to travel with my wife. I'm a pretty voracious reader. I'm a tennis player and a fierce competitor – but my love of competition doesn't match my physical ability anymore. I bike and hike and garden.
And you like garlic?
I grow it, I eat it, I pickle it, I read about it. Garlic's a funny plant. It's been used for all kinds of different things, from avoiding vampires to curing viruses.
(By Jeff Hodson)
Originally Published: October 2015