Ali Rowhani-Rahbar's research focuses on violence prevention and control, especially the timely issue of gun violence.
You trained as a medical doctor in Iran. What drew you to public health?
After a few years of medical school, it was clear to me I was greatly interested in population health sciences. Medical students in Iran are required to conduct a dissertation project. Mine was among the first prevalence studies of blood-borne infections among incarcerated injection drug users in that country. Partially as a result of that study, a harm reduction program (needle safety and syringe exchange program) was started in certain prisons in Iran. That was quite progressive. My thesis paved the way for my application to Yale, where I studied for my MPH and graduated in 2005.
What brought you to the UW for PhD work?
One important factor was my wife, Sahar. She was a medical student at Stanford. We were leaning toward the West Coast. The second thing – I always knew the UW program was strong. I contacted a few people, including Steve Hawes, and he offered me an RA position. Orientation left me with a very positive impression. There was a lot of passion among people in the Epi department.
What are you doing on gun violence?
I received a UW Royalty Research Award to explore the epidemiology of violent crime and injury/death following hospitalization for a gun injury. In collaborations with other colleagues such as Fred Rivara, I'm trying to shed light on what happens to people who get hospitalized for firearms injuries but don't die in the hospital. How likely is it they will die or be injured or shot again after being discharged? We'll also look at their arrest and conviction records. The marriage of criminology and epidemiology is an emerging field and is truly interdisciplinary work. Gun violence is incredibly important for us in public health to study – it affects Americans on a daily basis.
You're also studying the effects of marijuana on driving?
Caleb Banta-Green and I received a grant from the AAA Foundation to study the impact of marijuana use on motor vehicle collisions. The specific question is about acute cannabis use within a few hours of driving and risk of crash. Using collected biological specimens, we're going to look at data to see who was pulled over for DUI, who crashed, and the proportion of those who had used marijuana within hours prior to the incident.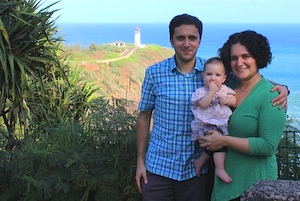 With wife, Sahar, and daughter, Sophie, in Hawaii
How much marijuana is it safe to consume before driving?
That's a good unanswered question at this point. Unlike alcohol, we still need to build evidence to precisely quantify what constitutes low, medium, or high marijuana consumption in relation to injury risk. The potency varies and it depends on how it's consumed. I think we will see an expansion of studies on marijuana for a host of different issues including second-hand smoke, air pollution, and crime among other things. It's going to be quite interesting.
What can you tell us about your research on concussions?
We know very little about the epidemiology of head injuries among middle-school aged children. We don't know how frequently children of this age group sustain head impacts, and what the consequences of those impacts are. We're about to start a study on soccer-playing children 11 to 14 years of age, male and female, in the Seattle area. Funding is from Seattle Children's. We'll measure head impacts using a small device placed behind their ears. We plan to test those children for their brain function and examine whether any observed associations differ by gender.
Tell us more about your reasons for joining the SPH faculty.
I deeply cared for the three main components of academic life – research, teaching and service – and felt I belonged. It's a privilege to stand in front of a classroom. Not only do I get a chance to share what I know with my students, but I also learn a great deal from them. That is what excites me the most. I co-teach Epidemiologic Methods I and II with Victoria Holt and Noel Weiss. I have this terrific opportunity to shape the thinking of the next generation of health science researchers. Teaching is a big part of my identity as an educator and mentor.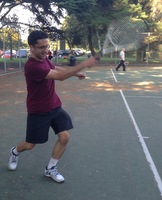 Tennis is a favorite sport
What do you do outside of work?
We have a daughter Sophie, who is 16 months old. She keeps us busy and entertained. I'm a big soccer fan. I used to play for many years, especially when I was in Iran. Since coming here it has turned into watching soccer. I enjoy playing racquet sports – tennis, pickle ball, ping pong. I would love to practice squash and badminton, too. I read fiction whenever I find time; currently working through The Goldfinch by Donna Tartt.
Do you miss Iran?
I do. I was last there in 2008. It's a beautiful country with great people and good food. I just need to find time to be able to go back and visit. The picture you see in the media politically is very different from what you see among people.
(By Jeff Hodson)
Originally published: September 2014, revised in June 2019, photos courtesy of Ali Rowhani-Rahbar
 Ali Rowhani-Rahbar - faculty bio