More than 56,000 people have been trained on a wide range of public health issues by the International Training and Education Center for Health (I-TECH), within the Department of Global Health. Ann Downer has been its director since it was founded in 2002.
Q: You teach a very large online course. How did that evolve?
Downer: It's Global Health 521, global program management and leadership. It's been around about four years in this e-learning format. I thought we could offer a classroom in every I-TECH office, so we did that for a couple of years. Other countries heard about it, and there were a lot of health care workers who never had a single hour of management training so it just mushroomed. Last year we had 300 people and this year we have 500. There's a real hunger for education.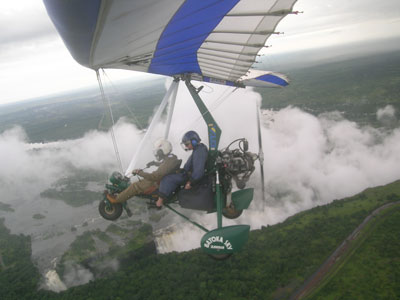 Ann celebrated her birthday in 2009 flying a microlight plane over Victoria Falls, Zambia
Why is the course so popular?
It is a topic that's seldom taught. We teach about how to do a budget, how to inspire people, how to have influence when you're not at the top, how to think about conflict. We record the lectures here and they are either streamed or downloaded two weeks later in the remote classrooms. Students here get to meet students there in discussion boards. This is the most fun I've had teaching.
Several other universities recently announced major plans to develop online education.
I think there's no going back. In the educational literature, self-paced learning is clearly more effective, especially for adults. It's more flexible and appeals to more diverse learning styles. If you miss a class, you can take the recorded session. You can maintain a job while taking a class.
Tell us about the website you created to support global health leadership.
It's called everydayleadership.org and was launched in December 2011. It features open-source curriculum materials, 22 ten-minute profiles of global health leaders, and 350 short clips designed to be inserted into PowerPoints and used to trigger discussion. We wanted to hear voices from all over the world, not just from the US. The idea came from my I-TECH experience and all the amazing people I've met.
One profile is with Sethu, who started as an I-TECH driver in India. He was our driver for a couple of years, then he learned to operate office machines, and within seven years he was our facilities manager. He's a classic example that leadership can come from anywhere in an organization. Leadership to me means taking responsibility. You can learn it and anybody can choose to display it.
What impact has I-TECH had?
When the earthquake struck Haiti in 2010, all electronic systems were destroyed and medical records were lost. We had developed the electronic database for 65 clinics and nearly 50,000 patients, and we kept the backup system on a server at the UW. I-TECH, the government, and partners acted quickly to restore the system, called iSanté. Clinicians worked tirelessly to attend to life-threatening conditions while also trying to ensure continuity of care for HIV-infected patients. They needed access to medical records.
We also provide HIV care in three of the largest and remotest regions of Ethiopia. In Namibia, we work with the military and defense forces to offer treatment and counseling services for HIV. That's been quite successful. We're running a male circumcision project in Botswana, offering distance learning in the Caribbean, e-learning in Mozambique, media awareness of TB in Ethiopia, and dozens more projects. In every country the scope of work is unique, but all focus on working with the government to strengthen healthcare systems.
What's your biggest accomplishment?
Ann Downer with a nurse at the Govt. Hospital of Thoracic Medicine in Chennai, India.
I'm proud of being at the UW. It has given me a lot of credibility. I'm proud of being in the same relationship – with John LaManna, geologist extraordinaire – for 31 years. I am proud of the work we do through I-TECH and the people who do it. I am proud of the students we graduate.
What advice do you have for others trying to be successful?
For me, it's been essential to know what my strengths and weaknesses are. And to put myself in a position where my strengths help me and avoid situations where my weaknesses hurt me. For instance, I like and do well when I'm in a setting where I can spend more time envisioning and planning public health interventions than on implementing and maintaining them. I have found the university to be a very good setting for allowing me to use my strengths in this way. On a very personal level, I am pretty aware of my weaknesses in certain areas of management and leadership weaknesses and have learned the importance of hiring and keeping people near me with strengths in those areas. If you know me well, you can readily see that in terms of whom I choose to work closely with.
How do you start your day?
I get up at 5 a.m. and work at home until about 9. I had to become an early riser. You can Skype with people still at work (in other countries), you can join their meetings if you want, and you can solve problems before anybody else is at work. It's really a powerful thing. Luckily, I'm a morning person.
What do you do for fun?
Gardening. It gives me everything I need: exercise, beauty, peace, quiet, exposure to the cycles of life. I like pets. I have a cat and I dog-sit for my friends. I love my iPad. I watch movies on it. I listen to the radio on it. I do my email on it. I read the newspaper on it. I don't even look at my TV anymore.
What are you reading?
I'm reading "West of Here," by Jonathan Evison, a book about the history of the Elwha River. It's an historical novel. I don't like nonfiction much. My favorite book growing up, like a lot of people from my generation, was "To Kill a Mockingbird," by Harper Lee. I am guessing that I share my love of the book with many others in public health because of its theme of justice, the rationalism of Atticus and the law, and the courage and empathy of Scout, the narrator.
Your favorite movie?
I like the "The English Patient" – a great soundtrack, the Lawrence of Arabia vistas, and a fateful love story.
(By Jeff Hodson)
Originally Published: 2012