What initially drew you to HIV work?
I wanted to do research that made an immediate difference to people. That's been my simplest guiding principle for the last 15-plus years. I found research questions on doing HIV prevention and care in Africa that resonated really strongly with me and I continue to build on those questions.

Listen to Baeten explain a new strategy to prevent HIV
Why did you choose Africa?
The heart of the epidemic, the worst-affected areas, were there. I went to Kenya more than 15 years ago to discover if it would be the kind of place that would grab me for doing research and teaching and training. I lived in Mombasa, on the coast, and worked at a public hospital for two years. I ran my own little clinic with collaborators. It was a very different time. I had a lot of hard conversations with people who found out they had HIV at a time when there was no treatment. Now there is widespread testing and treatment and remarkable innovations in prevention. It's been incredibly motivating and heartening to see that process.
What do you like about working there?
I love the place. I really feel at home in many ways. A lot of that is because of the people. I get there and I have the kind of conversations about work, about life and about family that you can have with people you've known for a long time.
"Everything that's new takes time, just like iPads. The first one comes out, and then some people have it and more people have it and then it's used commonly."
How often do you visit?
Four to six times a year. I go to Kenya, Uganda, Zimbabwe and South Africa.
What research was recognized by the ASPPH/Pfizer Young Investigator Award?
It was for the "Partners PrEP" paper (published in the New England Journal of Medicine). That was a large clinical trial to figure out a new strategy for HIV prevention. We worked in Kenya and Uganda with dozens of scientific collaborators and enrolled almost 5,000 couples in which one person had HIV and the other one didn't. We tried to figure out if a new strategy would prevent HIV from being passed between partners. It's called pre-exposure prophylaxis (PrEP).
In Kenya with Dr. Nelly Mugo and puppets used to recruit couples for the Partners PrEP Study  
How did it work?
We provided anti-retroviral (ARV) – or anti-HIV – medication to the HIV-free person in each couple to block the virus from being transmitted to them. It's like the anti-malaria medicine I take when I travel to Kenya. We were successful. It has now become part of the arsenal we can use in the US, Africa and the rest of the world to try and turn the tide in the HIV epidemic.
What impact did your research have on the US Food and Drug Administration?
The FDA reviewed our data and a second trial conducted among men who have sex with men. The medication we tested was a combination of two ARVs, known by its brand name, Truvada, in the US. It had already been approved for use by HIV-infected people. Treating HIV-infected people with ARV is good for their health and their partners. In July 2012, the FDA recommended the medicine could be used not just by people with HIV but also as a prophylaxis. It was the first medication ever approved for HIV prevention.
What was the global response?
The World Health Organization also issued guidance to countries on next steps, which is implementation science on how to make this a workable strategy in real-world clinics.
Highlights
Assoc. Professor, Allergy and Infectious Diseases
Adjunct Assoc. Professor, Epidemiology
MD, University of Washington, 2003
PhD, UW, Epidemiology, 2001
BA, Chemistry, Religious Studies, Washington University, 1995
What's happened since then?
People are trying to figure out how to make this usable. There are many questions: Who are the right people to prescribe this medication to, how to find them, what are their motivations, and how to maximize their adherence to it? Who prescribes it? Where do they prescribe it? And then how to pay for it?
It's in flux everywhere, because everything that's new takes time, just like iPads. The first one comes out, and then some people have it and more people have it and then it's used commonly. In the US, there's been discussion about how this fits in with other preventive strategies and the Affordable Care Act.
How are you following up?
We're doing a next-step project in Kenya and Uganda (called the Partners Demonstration Project) with couples to figure out if people are interested in taking these medications and how well they use them. We started last year and will continue for a couple of years.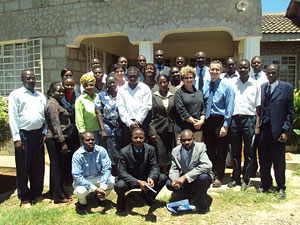 Members of a Partners PrEP study team
How many lives could be saved or new infections prevented?
We're trying to get those numbers for the next-step study. We know that in couples, the chances of passing on an infection are as high as 10 to 15 percent each year. In Partners PrEP, that went down to about 2 percent a year, just with all of that really good counseling, and down to half a percent in those couples who were receiving prophylaxis.
You also mentor others while caring for patients?
I'm working with four doctoral students and two master's students. I also see HIV-infected patients at Harborview's Madison Clinic. My public health research is informed by interactions with patients and I think my public health degree tied that all up really tightly for me.
What do you like to do when you're not working?
Travel, believe it or not, despite all the time I spend on an airplane for work. Spending time at home with family and a four-year-old, cooking, gardening, skiing, outdoor stuff. I read a lot of non-fiction and news.
(By Jeff Hodson)
Originally published: December 2013