King Holmes was stationed in Pearl Harbor when he tackled his first major disease as an epidemiologist: incurable gonorrhea in the Navy. Since then, he and his colleagues have worked on 20 STDs and other infectious diseases, helping identify, prevent and devise treatments that have improved the lives of millions of people. The discovery with David Eschenbach, chair of UW's Obstetrics and Gynecology Department, that the Dalkon shield IUD caused pelvic inflammatory disease was one such discovery. For his many scientific contributions and "amazing gift of mentorship," Holmes was recently named the winner of the Gairdner Foundation's 2013 global health award.
How did you first get into public health?
I had been drafted by the Navy during the Vietnam War and offered to sign up for a third year if they would send me to Hawaii or Japan. I was assigned to Pearl Harbor, where I first ran a dispensary and then joined the Navy's preventive medicine unit. When I arrived at my desk, it was full of reports of incurable gonorrhea from the 7th Fleet. I had almost no experience until then in epidemiology. We conducted studies that evaluated new antimicrobial regimens that added probenecid (a drug that increases levels of penicillin). It turned out to be very highly effective, with nearly a 100 percent cure rate in various studies, and became the standard approach for treating gonorrhea.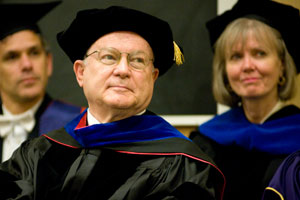 For Holmes, students have always been the top priority.
When you first started there were only six STDs?
Now there are more than 30! Many of them were around at the time, but hadn't been identified. At the time, there was nothing much going on with STDs in academia. They were marginalized to public health departments, which were poorly funded for STD control. It was not a reputable area. Yet there was a growing epidemic of STDs. The oral contraceptive was new, there was the sexual liberation of the 1960s and veterans from the Vietnam War were returning. There were lots of syndromes that no one really understood.
What brought you to the UW?
I came in 1967 because it had a reputation of having some of the best infectious disease specialists in the country. Marvin Turck and Robert Petersdorf were two of my mentors.
What was your reaction to winning the Gairdner Award?
I was very excited. I love the Canadians, and it's a great Foundation. There have been several Gairdner Award winners at the U in the past, and it's a great group to be added to.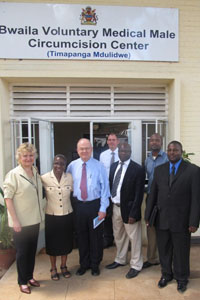 Holmes, who enjoys travel, on a recent trip to Malawi. Ann Downer, director of I-TECH, is on the left.
What will you do with the $100,000 (Canadian) prize money?
You're not supposed to ask that question (smiles). I'll be contributing it to the University of Washington, but it's a little premature to say how. I don't even have the award yet (it'll be given in October).
You tried for many years to launch a global health department. It finally opened in 2007. It's unique in that it falls under two schools, isn't it?
Yes. As the head of global health at the Gates Foundation, which provided $30 million for our launch, said, the School of Public Health had more limited resources but a population-based approach.
The School of Medicine had strong medical programs and more resources. The idea was that bridging between the two schools would be synergistic.
Looking back, what are the department's biggest accomplishments?
The students have always been our top priority. The number of courses and student-based curricula – led by Stephen Gloyd, our associate chair – and programs has increased and been very successful. We now have a large master's degree program with four tracks. We have two PhD programs. We have several global health certificate programs. We now have an undergraduate minor in global health. I'm also quite happy we've become one of the most academically diverse departments in the university, with faculty from at least 35 departments and 15 of the 16 UW schools. It's very interdisciplinary, and that's been a goal.
Highlights
MD Cornell University, 1963
PhD Microbiology, University of Hawaii, 1967
Served in the US Navy
Founded the UW Center for AIDS and STD in 1989
In terms of external funding, the department has become one of the largest at the university. The speed of growth, the diverse backgrounds of the faculty and the students, and the quality of the programs have made the department here well-known and clearly one of the best in the world.
What accounts for this rapid success?
One of the reasons is the presence of the Gates Foundation and its initial endowment and gift to get us launched. Second, the state has helped fund the department. Third, the University of Washington is such an attractive place for students and faculty to come. I would say the administration of the schools and the university itself have been incredibly supportive.
"The diversity of the faculty and students and the quality of the programs have made the department clearly one of the best in the world."
What explains the growing interest in global health?
There's a greater sensitivity among young people and others, including religious and academic groups, at the level of inequity of health across the world. Second is the concern that global pandemics are not confined to one country. There's growing interest in other things that cross borders and have an impact on global health: climate change, violence and war. Equity and health translate into a world we can all live in.
The recent Institute for Health Metrics and Evaluation study on the global burden of disease reveals a shift from infectious to non-communicable diseases. Are we winning the battle against infectious diseases?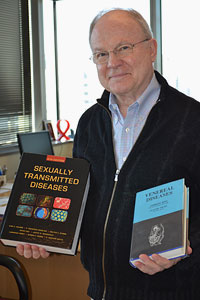 NOW & THEN: Holmes holds a book on STDs he co-authored (left) and one he used in the 1960s as a young doctor.
Infectious diseases are so unpredictable. My biggest concerns are the emerging and antimicrobial–resistant diseases. We thought we had them under control, and in fact rates of malaria, TB and AIDS have come down. But now we're seeing drug-resistant strains of malaria, totally drug-resistant TB, increased drug resistance in newly infected people with HIV, and superbugs resistant to antibiotics. Then we see new signs of infectious diseases arriving, like swine flu and avian flu and SARS.
Many of your trainees have gone on to hold important global health posts. What are the secrets to being a great mentor?
I don't know what the secrets are. The biggest reward most of us in academia get is from mentoring and seeing the people we mentor grow and become successful when they leave. Mentoring is a privilege. It doesn't end when the faculty/mentee is finished training. It continues for as long as there's a need and interest, and that's also part of the joy of mentoring.
What do you like to do when you're not working?
Sleep (smiles). When people ask me this, I always say, 'I don't feel like I have too much work. I feel like I need more time to work.' Personally, I like to get together with my family, especially my children and grandkids. My partner is Virginia Gonzales, who is on faculty at the School of Public Health. I enjoy travel, and get to do a lot of it. I like to read and I like sports.
What are your future plans?
I have lots of projects keeping me busy. I'm head of infectious diseases at Harborview. Our Center for AIDS Research is about to be renewed. I'm the PI (Primary Investigator) for I-TECH (the International Training Center for Education and Health). I hope to keep actively engaged in research, mentoring, medicine and public health for as long as I can.
(By Jeff Hodson)
Originally published: 2013
Update: Dr. King Holmes, Director of Research and Faculty Development and inaugural Chair of the UW Department of Global Health, has been named Distinguished Professor Emeritus.