Public health has exploded in popularity on college campuses. At the UW, the number of students in the Public Health Major has jumped from 60 in 2012 to more than 400 this year. Find out from Assistant Dean and Senior Lecturer Sara Mackenzie what's driving this interest, and how a Frisbee brought her to Seattle.
Mackenzie on the popularity of the public health major
Why is public health so popular with undergraduates?
I think it's due to a shift in the generation coming up. They are more interested in social-justice issues, population health, and maybe they're a little less self-centered. Nationally, it's a big trend. Growth in programs has skyrocketed. We will plateau next year at about 500 students.
What is the philosophy behind the public health major?
It's more of a liberal arts program – a way to teach critical thinking skills, communication and writing. These are very transferable skills. Population health is the medium for discussion.
What kind of jobs are the graduates getting?
Many of our students will go on to health professions (medical school, dentistry, physical therapy, etc.). Some go on to graduate school in public health, or work for a couple of years first. A fair number do service – they join the Peace Corps or Teach for America. Others have worked for non-profit agencies; they're well-trained for entry-level jobs.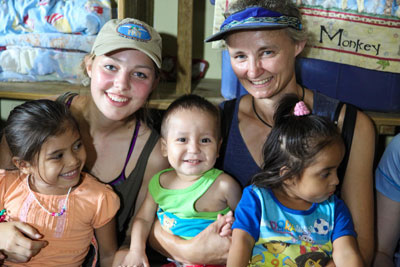 Sara and daughter Lila at a Honduras orphanage
My favorite is when they go on to areas that have nothing to do with health – such as law school or business – because they're taking public health concepts and philosophies into other careers. If we really want to get to that point of 'health-in-all-policies,' this is how we 'infect' all careers.
What's new with the major?
We've completely redesigned the curriculum. New students have to take a sequence of four core courses: History and Practice of Public Health; Science and Public Health; Research Methods; and Ethics, Social Justice and Policy. In the last course, we try to bring all of this knowledge together and think about how we can make choices or implement interventions that are just in our society.
Tell us about your 'active learning' classes.
Last year I was one of the first instructors to use the active learning space in Odegaard (undergraduate library). It really makes you rethink completely how you teach. It's a large space and students sit at tables. Instead of the traditional lecture, I've found it most effective to give mini-lectures divided by class activities.
Highlights
MPH, University of Washington, 2005
MD, UC-Davis, 1992
BS, Biology, U. of Iowa, 1987
Co-author, Your Health Today
Senior Lecturer, Health Services
Clinical Asst. Professor, Family Medicine, UW
You trained as a physician. What drew you to undergraduate public health?
About 14 years ago, I was in the University of Iowa Family Medicine program. In doing community work around teen pregnancy, I was frustrated with youth health education, which focused on individual behavior change and didn't include population context issues.
So I co-authored a textbook with two colleagues to introduce public health concepts into the personal health education field. Our book just came out in its fifth edition. It is one of the leading personal health textbooks at the college level.
My passion is getting our general population to understand that their individual health is connected to context and environment and not just individual choice. That was how I started teaching.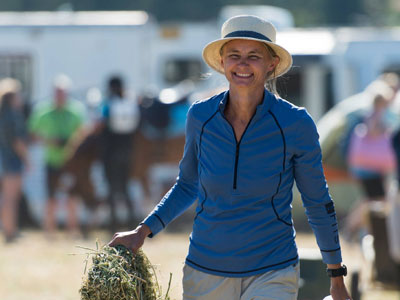 At Rebecca Farm in Kalispell, Montana, for a show
What do you learn from your clinical work?
I spend two half-days a week at Hall Health. I love it. It keeps me grounded in the reality of the daily lives of individuals, especially on a college campus.
Sexually transmitted infections are a big deal. I see the role of alcohol, the role of decision-making, the risk-taking behavior, and what goes into that. It keeps me empathetic to students.
Mental health – stress, depression and stigma – are other big issues. A lot of it comes down to time management and decision-making. Many students have not learned the skills to manage their complicated lives, now that they have freedom to be on their own and establish their own health habits.
How did your love of horses shape your career?
I was born in England and was horse-obsessed from the age of two. Since I could talk, I've said I wanted to be a vet. We moved to the States when I was 7. My sister and I were resistant, but my parents told me everybody in America had horses. We moved to Iowa, where my father was doing a post-doctoral fellowship, and got horses.
I worked with large-animal vets through high school, and spent a year in London working with a greyhound racetrack vet. In college, I had an identity crisis. I had never really thought about doing anything else other than being a large-animal vet. But it was the 1980s, Iowa was economically stressed, and I was told I would have more career flexibility if I did human medicine. People aren't that bad, I realized.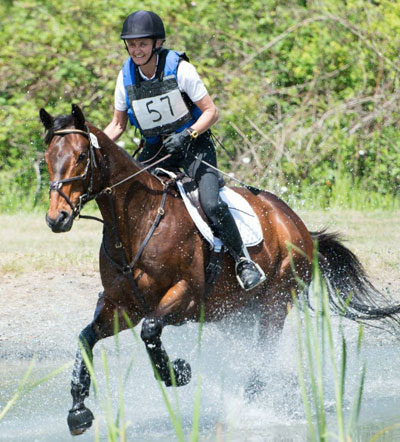 Competing off the track with her thoroughbred, "KK"
What brought you to Seattle?
Ultimate Frisbee. The city had a really good women's team. So I came here for a residency. I met my husband, Paul, who played on the Seattle men's team.
And now you're back into horses?
Our youngest daughter, Sydda, had the expression of her horse genetic mutation at age eight and had to have a horse (laughs). So we moved from Green Lake to Redmond seven years ago, bought five acres, and I completely got back into horses after 20 years.
My daughter and I compete in three-day eventing. We have a kind of menagerie at home – a couple of thoroughbreds, goats, chickens, dogs and cats.
What else do you do?
I consult for Job Corps. I'm the West Coast regional health specialist. It's a vocational training program for high-risk youth. It's a Lyndon Johnson program, and one of America's best-kept secrets.
(By Jeff Hodson)
Originally Published: May 2015