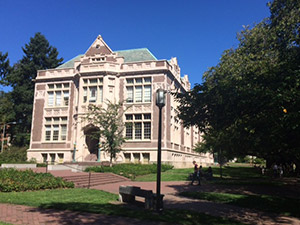 The School of Public Health Student Center in Raitt 229 has undergraduate advising offices, the Global Health Resource Center satellite office, and a student activity and study space. It is also where information sessions are held for all School of Public Health majors and minors.
The reception desk is staffed part-time with an undergraduate student who welcomes you to the Center and provides any needed assistance.
Hours & Location
Open: Monday-Thursday, 8am-7pm and Friday, 8am-5pm during the autumn, winter, and spring quarters 

Closed: Saturday, Sunday, and holidays
Limited hours during the summer
Directions (pdf)
Undergraduate Advising
Undergraduate advising takes place in Offices A, B or C in the Student Center. There are drop-in advising hours regularly scheduled throughout the week; see the calendar below for the schedule. Undergraduate advisers are available for:
Global Health Resource Center (GHRC)
GHRC, in Office D, manages and provides advising for the Global Health Minor, provides career advice and information referral, and develops tools to disseminate information about global health activities both here and abroad. See the calendar below for the GHRC's staffed hours.
Space Reservation and Usage
The activity and study space has movable tables and chairs and Wi-Fi access, and can hold up to 30 people. Instructors and students can reserve this space for an activity or event. The space can be used for studying during open hours. When an activity or event is taking place, any unused areas of the space can be used by individual students.
Please note that undergraduate advising offices are co-located with the Student Center, so activities should not disrupt students' access to advising during the Center's open hours.
SPH Student Center Space Calendar
Key:  Activity & Study Space  Office A  Office B  Office C  Office D/GHRC
Click on arrow to right of "Agenda" to hide/display spaces