University of Washington School of Public Health
New Student Orientation 2014
Congratulations on your admission to the UW School of Public Health! The activities during orientation will introduce you to the the School and give you opportunities to network with other students and faculty.
Service Day Information | Undergraduates | Graduate Students
---
Incoming Undergraduates
Students joining the School's undergraduate majors this autumn will receive orientation information directly from their respective majors.
Environmental Health Majors: contact ehug@uw.edu
Health Informatics (HIHIM) Majors: contact hihim@uw.edu
Public Health Majors: contact phmajor@uw.edu

---
Incoming Graduate Student Orientation
Friday, September 19, 2014
AGENDA
HOGNESS LANDING
SPH Incoming Graduate Student Orientation Check-In


11:00-11:30am
HOGNESS AUDITORIUM
Welcome from the Dean
11:30-11:35am
Introduction from the Office of Student Affairs
11:35-11:45am
Tips for Graduate Students from the Student Public Health Association
11:45-12pm
Union Presentation
12-12:30pm
Transition: Hogness to Portage Bay Event Area
12:30-12:40pm
PORTAGE BAY EVENT AREA
Lunch; Health Sciences Common Book discussions with faculty, alumni, and current students

Learn more about the common book

12:40-2pm
Transition: Portage Bay Event Area to SCC 300 (Lobby)
2-2:10pm
SOCC 300
Round Robin Resource Fair


Odegaard Writing and Research Center
Graduate Opportunities and Minority Achievement Program
UW Police Department
Safe Campus
Hall Health and Counseling
Student Public Health Association
SPH Diversity Committee
Rainbow Grads
Disability Resources


2:10-2:50pm
Transition: SOCC 300 to Portage Bay Event Area
2:50-3pm
PORTAGE BAY EVENT AREA
Student Public Health Association Happy Hour

3-5pm
SPH Incoming Student Service Day
Saturday, September 27, 2014
On September 27, 2014, the School of Public Health will partner with Remote Area Medical to help the organization prepare items for its Seattle Remote Area Medical Clinic, which will be held at Seattle Center on October 23 – 26, 2014. The clinic will provide free dental, vision, and medical services to underserved individuals. The principles are simple, services are provided on a first-come, first-served basis. All services are free, and include parking, snacks, and water. All patients are treated with respect, dignity and compassion and are not judged for their background, lifestyle or personal habits. No volunteer or participating organization receives payment for services rendered.

Incoming students MUST register to participate in Service Day.
Email sphosa@uw.edu to obtain a registration link.
AGENDA
| | |
| --- | --- |
| Transport of participants from the School of Public Health to the Remote Area Medical site (Seattle Center) | 10:00-10:30am |
| Presentation by Julia Colson (Project Director, Remote Area Medical) | 10:30-11am |
| Presentation by Tao Kwan-Gett (Director, UW Northwest Center for Public Health Practice) | 11-11:30am |
| Lunch and small group activity | 11:30am-12:30pm |
| Remote Area Medical Project Work | 12:30-3:30pm |
| Transport of participants from the Remote Area Medical site (Seattle Center) to the School of Public Health | 3:30-4pm |

Remote Area Medical® (RAM) is a non-profit, humanitarian organization founded in 1985 by Stan Brock, known to many for his work on the television show Wild Kingdom. Initially focused on providing healthcare access to people in remote areas of the world such as Haiti and Guyana, in 1992, RAM was asked to hold a clinic in the United States and before long began receiving invitations from rural and urban areas across the country. Guided by its mission to prevent pain and alleviate suffering for people in need by providing free, compassionate, quality healthcare without discrimination.

If you are interested in volunteering as general support staff for the Seattle RAM Clinic (October 23-26, 2014), visit http://www.ramvolunteers.org/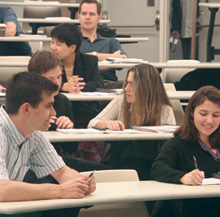 New Student Resources