University of Washington School of Public Health
Arthur Kellermann: I've saved more lives with public health work than in the emergency room
Share: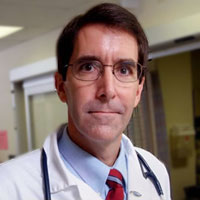 Not long after earning his MPH at the UW School of Public Health, Arthur Kellermann was working a shift in the emergency room at the University of Tennessee's regional medical center. Paramedics rolled in a young man with diabetic ketoacidosis, a life-threatening condition. The man was wearing a bright yellow wristband from a private hospital that had transferred him when they realized he was too poor to pay. He was a victim of a widespread practice at the time known as patient dumping.
"He was on death's door. I was dumbfounded," said Kellermann (Health Services, '85). "This had never happened in Seattle," he said, recalling his days at Harborview Medical Center.
Kellermann Highlights
Current: Dean of the F. Edward Hebert School of Medicine at the Uniformed Services University of the Health Sciences
Distinguished Alumnus, 2012 - Listen to his commencement speech on the power of public health.
Taught emergency medicine for more than 25 years in Seattle, Memphis and Atlanta
Founding Chairman, Dept. of Medicine, Emory University (1999-2007)
Director, Center for Injury Control, Rollins School of Public Health, Emory University (1993-2006)
Chief resident, UW Dept. of Medicine (1982-83)
Incensed, Kellermann and his colleagues collected case studies, published an article and went to state lawmakers. Tennessee became the first state to pass legislation making it illegal for hospitals to refuse to treat indigent people. That campaign led to a chance to testify before Congress.
Kellermann, who admits he was a "young hothead with a brand new MPH from the UW," pulled out a trash bag of nearly 300 rubber wristbands and dumped them on a table in front of the House Intergovernmental Affairs Committee. "The Committee leaned forward and the audience was stunned," Kellermann recalled. He told the legislators that every one of the wristbands represented someone's son or somebody's friend who had been refused treatment at a private hospital. "It made it real," he said.
Soon after, Congress passed legislation that later evolved into the Emergency Medical Treatment and Active Labor Act (EMTALA). It requires hospitals to provide life-saving care to everyone, regardless of ability to pay.
Kellermann has a flair for the dramatic – and an ability to communicate compelling public health issues. "Public health has to master the numbers, but the public has to see the face behind the numbers," he said in a telephone interview from his office in Arlington, VA, where he works for the RAND Corp, an influential think tank. It's a tactic he says he learned from the legendary William Foege, the SPH affiliate professor and UW medical grad credited with the strategy that eradicated smallpox.
"More than ever, what people have to understand, beyond basic concepts of leadership, is the power of being a communicator," said Kellermann. The ability to "make a case," he says, is a fundamental skill of public health professionals. Public health workers must not only master tweets and blogs, they also need to be prepared for future tools.
"For my generation, the desktop computer was the 'electron microscope' of public health. Going forward, the smartphone and other mobile apps will be the tools for the next generation of public health professionals," he said.
Kellermann is active on Twitter and is working on a mobile application with a RAND colleague that he hopes will "bridge the persistent gap between front-line healthcare providers and public health agencies." He's also completing a study of a web-based self-help tool for parents of children who have influenza-like illness.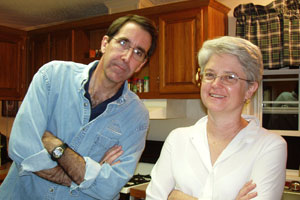 Now empty nesters, Kellermann and wife Leila Taaffe (UW Law grad) enjoy hiking and exploring DC's museums.
Kellermann, the school's 2012 Distinguished Alumnus, also knows how to inspire. He told this year's graduates in his commencement address: "I am absolutely certain that over the course of my career I've saved far more lives with my public health work than I did in 25 years of clinical practice at one of the busiest ERs in America. You will, too."
Kellermann has other advice for those seeking to make their mark. "If you're serious about a career in public health, you need to understand that public health is a contact sport," he said. "You will run into pushback, politically, financially and otherwise, or advocacy groups that have an agenda that is antithetical to public health. That is not necessarily something people are ready for when they go in."
Throughout his career, Kellermann has been vilified by gun owners and the National Rifle Association for his influential studies on gun violence. One of his major findings: Guns kept in the home were more often used in fatal shootings against family members or friends than against strangers or in self-defense. "That's still the best methodological work I've done," Kellermann said. "It's criticized by people with a political agenda. But it's stood the test of time."
Q: When did you first become interested in gun violence as a public health issue?
Kellermann: I was taking a class in Epi and just finished a Noel Weiss lecture on case-control methodology. I was sitting in the UW student center, eating a hamburger with another guy, when I heard that Marvin Gaye had been shot by his father. This is crazy, I thought. I haven't seen a bad guy shot by a homeowner yet. I decided this is a testable public health question. You could do a case control question, looking at homes where a tragedy occurred and comparing them to other homes.
What drew you to public health?
A conversation I had with Bill Foege at the CDC. I was working a summer job as a med student and he was the director. He gave me an hour of his time, stretching his legs out on the coffee table, and he asked me why I wanted to be a doctor. Five years later, when I'm sitting in my UW epidemiology class, I realized he had slipped something under my skin.
Why did you choose the UW?
The clinical scholars program. It turned out some real superstars. I had two semesters of epidemiology and training under Noel Weiss and Tom Koepsell and two semesters of biostatistics. That gave me the essential analytical tools for the kind of work I've done. It made all the difference. The caliber of the instruction, the engagement of the UW's faculty and the energy they communicate really energized my work as I went forward.
What major issue are you working on right now?
Health-care costs and the fiscal sustainability of the American health-care system. We cannot continue to spend $2.8 trillion a year, rapidly approaching $4 trillion, for a system that delivers mediocre results. Over the past 10 years, growth of health-care costs wiped out the income gains of middle-class Americans.
What are the solutions?
Of the four basic strategies, two are bad ideas. The first bad idea is blunt rationing – we do that today, based on ability to pay. The second bad idea is to progressively squeeze payments to providers. At some point, they won't play. The third and far more promising option is to provide care that works and stop wasting money on inappropriate care. Fourth, we could keep more people healthy in the first place by reinvesting in public health.
You've said there's no such thing as an accident. What do you mean?
An accident implies that injuries are random and unpredictable. In fact, they are health events that affect high-risk groups and often follow a predictable chain of causation. Any health event that is predictable is potentially preventable. We'll never stop all car crashes, gun violence or industry accidents, but we can dramatically reduce deaths and injuries. One of the greatest public health achievements of the last few decades is the dramatic reduction in traffic mortality achieved through highway safety. It came from designing safer vehicles, building better roadways and promoting use of seatbelts.
What do you do for fun outside of work?
I'm proud to say I've been happily married to the same woman – Leila Taaffe – a graduate of UW Law. With one grown son, we're officially empty nesters. We really enjoy hiking and cultural experiences. In DC, the museums and theater scene are amazing, and for political junkies like us, it's a great place to follow current events.