University of Washington School of Public Health
Michael Phillips: Pioneering Suicide Research in China
Share: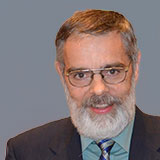 The life choices of Dr. Michael Phillips, MPH '84, are a reminder there isn't a single, clear path to a career. The School of Public Health's 2013 Distinguished Alumni Award winner majored in psychology and theater arts, and even briefly considered a career in acting. Before that, he "dropped out" for a year to manage a residence hall at Rochdale College, Canada's first free college.
After earning his medical degree from McMaster University, he spent six months in London baking bread, teaching yoga and running an ashram, then started a medical internship in New Zealand. He always had a vague idea he would end up working in a developing country, but thought that might be in Africa. In New Zealand, a housemate turned him on to China.
Phillips made his first trip to China at the end of the Cultural Revolution. It was the spring of 1976, and during his three-week tour the young Canadian was struck by China's public health initiatives. "They had this really effective propaganda machine," Phillips said. "If they said 'clean latrines,' within a week people in the most distant mountains were cleaning their latrines."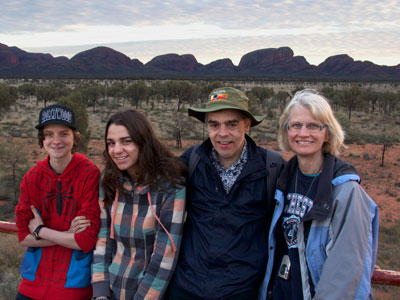 With daughters Jennifer and Jessica and wife Marlys Bueber at Kuta Juta in Central Australia over the summer
Later, Phillips returned to China to learn Mandarin on a two-year fellowship from New Zealand. Mao Tse-tung had just died and Deng Xiaoping, the reformist, would soon rise to power. Phillips spent his second year in Nanjing as part of the first group of foreigners to live there since 1949. "By then I was kind of hooked," Phillips said during a recent visit to the University of Washington to receive his alumni award and present the Walker Ames Lecture. "There was a sense all around you of incredible optimism. I figured there ought to be a place where I could make a contribution."
Before he could make an impact, though, Phillips needed more training. He decided to do a residency in psychiatry at the UW, followed by a Robert Woods Johnson Training Fellowship during which he earned an MPH in epidemiology and an MA in anthropology. "My training here served very well the purpose of finding a role for myself in China," Phillips said. He moved to China in 1985, but initially had no source of income so he returned to UW in 1987 for a couple of months to earn enough money to stay on in China. During that visit he met his future wife, Marlys Bueber, who had just finished her master's in psychiatric nursing and was working as an assistant head nurse at UW Medical Center. She subsequently visited him in China and stayed after his 'proposal': "Marry me and marry China!"
Highlights
Director, Suicide Research and Prevention Center, Shanghai Mental Health Center
Executive Director, WHO Collaborating Center for Research and Training in Suicide Prevention
Professor of Psychiatry and Global Health, Emory University
BSc, psychology, McGill University
MD, McMaster University
MA, anthropology, UW
MPH, UW School of Public Health
Co- Editor-in-Chief of Shanghai Archives of Psychiatry
In 1990, the Chinese Ministry of Health released mortality statistics for the first time, including for suicides, and the veil of a long-taboo subject lifted. Phillips was well-situated to conduct research on this topic, given his background in mental health, epidemiology and anthropology. "Once the door opened a little, I charged in," he said.
Why suicide? As a medical student in Canada, Phillips had worked as a nurse's aide in a hospital emergency room. He found himself listening to suicide survivors as they sat on gurneys in the hall for a couple of hours before they could return home. Nobody else had time to spend with them. "I became the guy who talked to these people," he said. "Their stories were absolutely fascinating. I think it was therapeutic for them to have someone who was genuinely interested in their life stories."
By 1994, Phillips and Bueber moved to Beijing, where he worked at a large Ministry of Health hospital. He published "Suicide Rates in China, 1995-99" in The Lancet, in 2002, the first international paper to paint a broad picture of suicide in China. Suicide was the fifth-leading cause of death, accounting for 287,000 deaths a year. Unlike in the West, more women committed suicide than men, and rural rates were three times higher than urban rates. Phillips and his colleagues described suicide as a major public health problem and urged immediate China-specific, suicide-prevention programs. Phillips briefly worried the government would kick him out for revealing its "dark secrets," but his epidemiology was sound and the data he used had been provided to the WHO by the Chinese Ministry of Health, so there were no serious repercussions.
Phillips has "really made a difference in a country where it's not easy to make a difference"
Phillips also linked up with China's Center for Disease Control and Prevention to conduct the largest study of its kind using the "psychological autopsy" methodology, which involves detailed interviews with the friends and family members of individuals who had killed themselves to identify the main causes of the suicide. What emerged was another pattern different from the West: Many who attempted or committed suicide in China did not have mental health problems. Instead, they often acted out of impulse in a moment of rage or shame. They tended to swallow pesticides, a particularly lethal method.
Twenty years later, the number of suicides in China has fallen by half. Phillips said interventions probably had less to do with that than social change. He cites two major factors: rapid urbanization (which meant fewer rural homes with pesticides lying around) and economic development (which led to general well-being and optimism). Another, but less important factor, he believes, has been the increased openness surrounding suicide.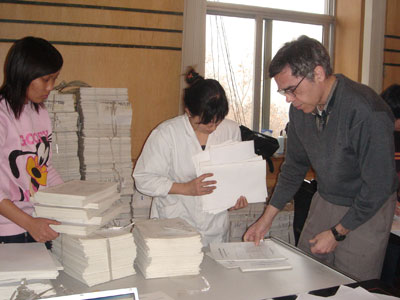 Working with staff from the Beijing Suicide Research and Prevention Center on a research survey
Earlier this year, Phillips received the China International Science and Technology Cooperation Award, the highest honor China gives to foreign scientists. At the recent Distinguished Alumni Award reception, one of Phillips' former mentors, Dr. Stevan Harrell, professor of anthropology, said Phillips was "a man who's really made a difference in a country where it's not easy to make a difference."
Phillips doesn't deny the challenges. "As a foreigner in China, you're always a guest worker," he said. "It's never been possible for me to get Chinese grants (at least until recently). I still don't have a green card after 30 years." In the early days, many Chinese suspected he was working for the CIA. Language was difficult, but he always lectured in Mandarin, and has published articles and books in Chinese.
His daughters grew up speaking Mandarin at school and identify with Chinese culture more than with Western culture. "Our daughters refuse to speak Mandarin with us because they figure our Chinese is so bad," Phillips said. "But they speak Chinese to each other." The eldest, Jessica, is in her second-year at the University of Toronto, where she recently joined the Mandarin Debate Club. The youngest, Jennifer, is still at home in Shanghai. Marlys Bueber has worked in psychiatric hospitals across the country and joined her husband at the Beijing Suicide Research and Prevention Center, where she developed the first national toll-free crisis hotline in China.
Phillips looks forward to future projects. The government recently approved what he calls a revolutionary Mental Health Law that calls for reducing stigma, voluntary commitments at psychiatric hospitals, and mandates all general hospitals to develop mental health services. "I'm pushing now to get a really good baseline so we can look five years down the road to see what worked, what didn't work, what needs to be revised," Phillips said. "I've got lots of plans, more plans than I'll ever be able to do."
Listen to Michael Phillips' Walker Ames Lecture, "Mental Health in the People's Republic of China: An Epidemiological Journey"