University of Washington School of Public Health
Graduate Student Profile
Shelly Johnston
Second-year MPH student; Graduate Coordinated Program in Dietetics, Nutritional Sciences
Hometown: Mount Olive, Mississippi (Population: 975)
Why did you choose the UW?
I grew up in central Mississippi and, as one may suspect, Seattle is very different in size, climate and culture. My upbringing fostered a passion for public health; however, I recognized the value of moving to a new location for professional training. The GCPD program is exactly what I had in mind—the opportunity to train in some of the region's leading healthcare centers and supportive faculty who are passionate about public health nutrition.
Why did you choose to study nutrition?
I always enjoyed cooking, but when I was younger, I didn't make the connection that my hobby could be a professional research interest. As a freshman in college, I took a cooking class as a "fun" credit. The instructor, who later became my adviser, introduced nutrition concepts through basic cooking techniques and food science. I realized my passion could become a career and, soon thereafter, shifted my major to nutrition.
What motivates you about public health?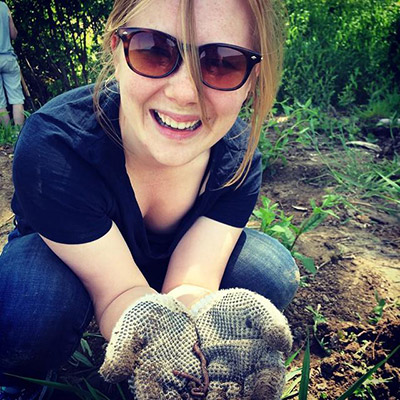 I often approach issues with a policy-systems-environment lens. Whether discussing food preferences or breastfeeding rates, I love moving upstream to consider how individual behaviors are influenced by our environment. Through my studies in public health, I have gained a language and tools that reflect this internal trait. With the significant challenges facing our society, I'm motivated by the emphasis on collaborative, multi-level strategies to achieve health equity.
Tell us about your research on breastfeeding policies.
In the U.S., many families are unable to achieve their breastfeeding goals due to sociopolitical and structural barriers. Breastfeeding policies are considered a promising systems-level approach to address these disparities. While there have been increased efforts to improve hospital maternity care practices, less attention has been focused on the adoption of similar breastfeeding strategies in community clinics.
For my thesis, I'm collaborating with the UW Center for Public Health Nutrition (CPHN) to identify factors that discourage or motivate community clinics to adopt supportive breastfeeding policies. The study involves a thematic content analysis of interviews conducted with 17 community clinics. The data were initially collected for CPHN's parent study on breastfeeding policy, which included 130 interviewees from five unique sectors in Washington state. Given the significant role of clinics in the breastfeeding continuum of care, I'm excited to take a deeper dive into the interviews.
Tell us about the 25-year food systems plan you worked on.
For my public health practicum, I worked with the Washington State Food System's Roundtable to develop internal documents and a website for the launch of the draft 25-Year Prospectus. The roundtable is composed of public and private partners from Washington state who are working at the policy level to support a sustainable, equitable food system. Members have collectively drafted the Prospectus, a roadmap consisting of goals and strategies to achieve a 25-year vision for the state's food system. At present, they're preparing to host several community forums around the state to gather feedback on the Prospectus draft—an exciting step forward! As an intern, I enjoyed the opportunity to see the complexities of policy development and the unique role of public health in food system interventions.
Do you have any other extracurricular activities or jobs?
I spend my spare time reading, enjoying the outdoors with friends and cooking. I love challenging myself with new recipes or techniques—the most recent venture being fresh pasta. Up next: mastering the art of biscuit-making.