University of Washington School of Public Health
SPH Connect: A Newsletter for Alumni and Friends of the UW School of Public Health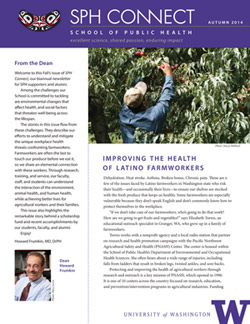 SPH Connect Autumn 2014
---
Highlights from SPH Connect Autumn 2014
The Pacific Northwest Agricultural Safety and Health Center works to protect laborers from heat-related illnesses, falls from ladders, pesticide exposure, and sexual harassment and violence.
Walter Remak escaped Nazi Germany for the safe haven of South Africa. Today, the Walter Remak Scholarship Fund helps students give back to the country that saved him.
MPH students go "mystery shopping" for Medicaid, while MHA alumni work to open a new community health clinic in north Seattle.
SPH Connect archives
Get Connect directly in your inbox - sign up online.