University of Washington School of Public Health
Julianne Williams
Share: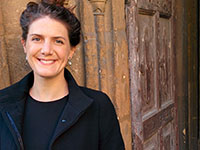 Julianne Williams (MPH, Public Health Nutrition 2011) was hired as a researcher at the Nuffield Department of Population Health at the University of Oxford. She works on a project that uses GIS (Geographic Information Systems) to examine links between the retail food environment around schools and child obesity.
"I'm hoping my research will inform policy that targets obesity prevention among children and young people," she says. The UK has used zoning laws to prohibit fast food outlets within a set distance of schools, she says, but the evidence about the effectiveness of such measures has been mixed.
In October, Williams will start doctoral work at Oxford on a project in Sri Lanka. She's focusing on the role that rural schools may play in influencing healthy behavior among students.