University of Washington School of Public Health
Kelsi Couvrette
Share: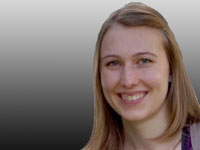 Year Graduated: 2010
Job Title: Global Retail Quality Specialist
Employer: Starbucks
Please tell us about your career path so far, starting with your first job after graduation and leading to where you work now.
After graduation I worked for two months on Kodiak Island as a QA Tech at a fish processing plant. Then I became an environmental health specialist at the Walla Walla County Health Department working as a generalist. After spending over a year there I started working at Starbucks as a Global Retail Quality Specialist on the food safety team.
What do you like best about your current position?
Although I am taking time off right now to be at home with my daughter, the things I liked best about working at Starbucks was that every day was different, and being able to talk about food safety with a variety of teams.
How do you think the Environmental Health major prepared you for the work you do now (courses, internship experience, etc)?
The Environmental Health major prepared me well for the position. Food Protection laid the background for my food safety knowledge. Communicating risk was the biggest part of my job. All of the sampling and analysis and risk assessment coursework helped me be able to understand the risk and be able to communicate it to my intended audience.
Any advice for current undergraduates who are in the major or who are considering Environmental Health?
Try to participate in as many internships as possible and consider working in an environmental health lab on campus. I learned so much from on-the-job training and it helped me decide where I wanted to work in the environmental health field.